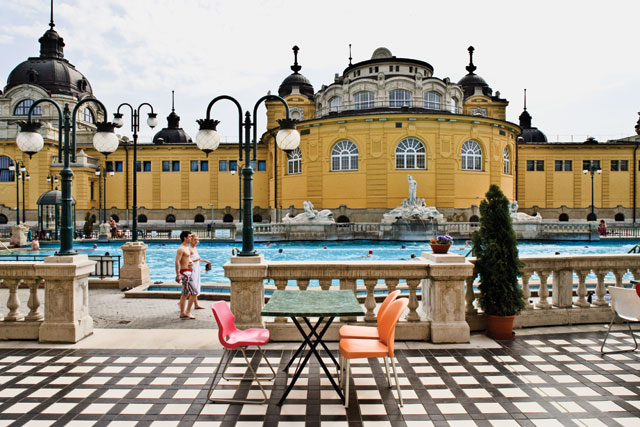 A new pass that lets you discover Vienna, Prague, Salzburg & Budapest
The new Central Europe Triangle Pass is valid for three one-way trips on one of the following routes:
Vienna-Budapest-Prague-Vienna
Vienna-Salzburg-Prague-Vienna
Your journey can start in any one of the mentioned cities and you can travel in any direction. For example, you can choose to start in Salzburg, head to Vienna, then Prague and back to Salzburg, or try another combination.  You can take up to one month to complete all of your trips, which gives you a chance to stay in each city for a few hours or a few days just as easily. Using the Central Europe Triangle Pass to travel is a great way to discover cities with a strong bond to arts and music, visit historical and cultural sights and enjoy relaxing baths and traditional meals. The combination of Vienna, Prague, Salzburg and Budapest hit just the right notes in a globe trotter's heart.
If you choose to start your journey in Vienna, you'll find a city where creative minds converge. Vienna's MuseumsQuartier is a large district strictly devoted to arts and culture, with about 70 different institutions including theaters, exhibition halls and museums such as Leopold Museum where you find one of the most important collection of modern Austrian art along with masterpieces of the Viennese Secessionist movement and Viennese modernism. From Vienna, you can then decide to travel to Salzburg, Budapest or Prague. A rail journey between Vienna and Salzburg takes 2 hours and 52 minutes and you'll find trains departing twice every hour in either direction. There are direct trains covering the distance between Vienna and Budapest in 2 hours and 47 minutes and they leave their respective station every two hours. If you decide to travel between Vienna and Prague, the journey will last 4 hours and 45 minutes with departures almost every two hours.
Salzburg is still widely known worldwide as the setting of the classic musical film "The Sound of Music". You can book tours of the city dedicated to locations where scenes of the original film were shot such as Mirabell Gardens with the Pegasus Fountain, Leopoldskron Palace and Mondsee Church. The city is also the birth place of famous composer Wolfgang Amadeus Mozart. His childhood house is open to visitors and contains historic instruments, painted portraits, documents and other memorabilia. Every year, towards the end of January, Salzburg holds the Mozart Festival, a music festival featuring both modern and classical music from renowned orchestras and world-class performers. If you decide to travel between Salzburg and Prague, the journey will lasts around 6 hours and 15 minutes and you will transfer to another train in Linz.
Prague sets itself apart thanks to its historical landmarks including the Old Town and Prague Castle. The first stop for most people visiting the city is Stare Mesto, Prague's Old Town. The city's busy square is one of Europe's best preserved old towns with its most memorable sight being the Astronomical Clock, perched on an exterior wall of the Town Hall. Another noticeable building is the twin-towered St Nicholas Church, but possibly the most impressive city attraction is Prague Castle, one of the world's largest.  Once you enter the castle you can visit its various buildings including the breathtaking St. Vitus Cathedral, the Old Royal Palace and Golden Lane. The journey between Prague and Budapest lasts 6 hours and 56 minutes with 5 departures throughout the day in both directions and one night train leaving in the evening, offering sleeping accommodation on board and reaching destination the next morning.
The main question in Budapest is can you can take the heat? This is in reference to Goulash a type of meat stew and Hungary's number one dish. One of its main ingredients is paprika, a spice that goes hand in hand with Goulash and comes in eight grades of hotness from sweet to tongue scorching. Budapest also gives you a chance to raise the temperature of more than just your palate. There is a large selection of spas and thermal springs in Budapest and you can book your stay in a spa hotel for easy access to a relaxing bath! Bathing in these hot springs are a long standing cultural tradition dating back to 150 years ago and it's still very popular today.
You can travel to these four cities with the Central Europe Triangle Pass. The pass is valid for a period of 1 month and allows you to travel on 3 one-way trips between these cities.