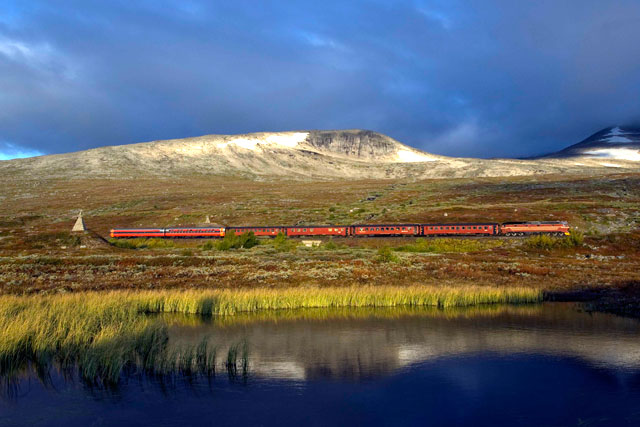 Discover Norway's far north from Trondheim to Bodø, past the Arctic Circle
Norway is a spectacular country to discover by rail, with many jaw-dropping routes and scenic landscapes. One such route is the journey on the Nordland Railway, which lives up to expectations any time of the year, whether you travel during the day or on a night train.
Knowing that you will cross the Arctic Circle during your trip is exciting, but witnessing the beauty of Norway's northern region with its roaring river falls, snow-capped mountains, splendid fjords and views of the striking glacier Svartisen is the real prize of this trip.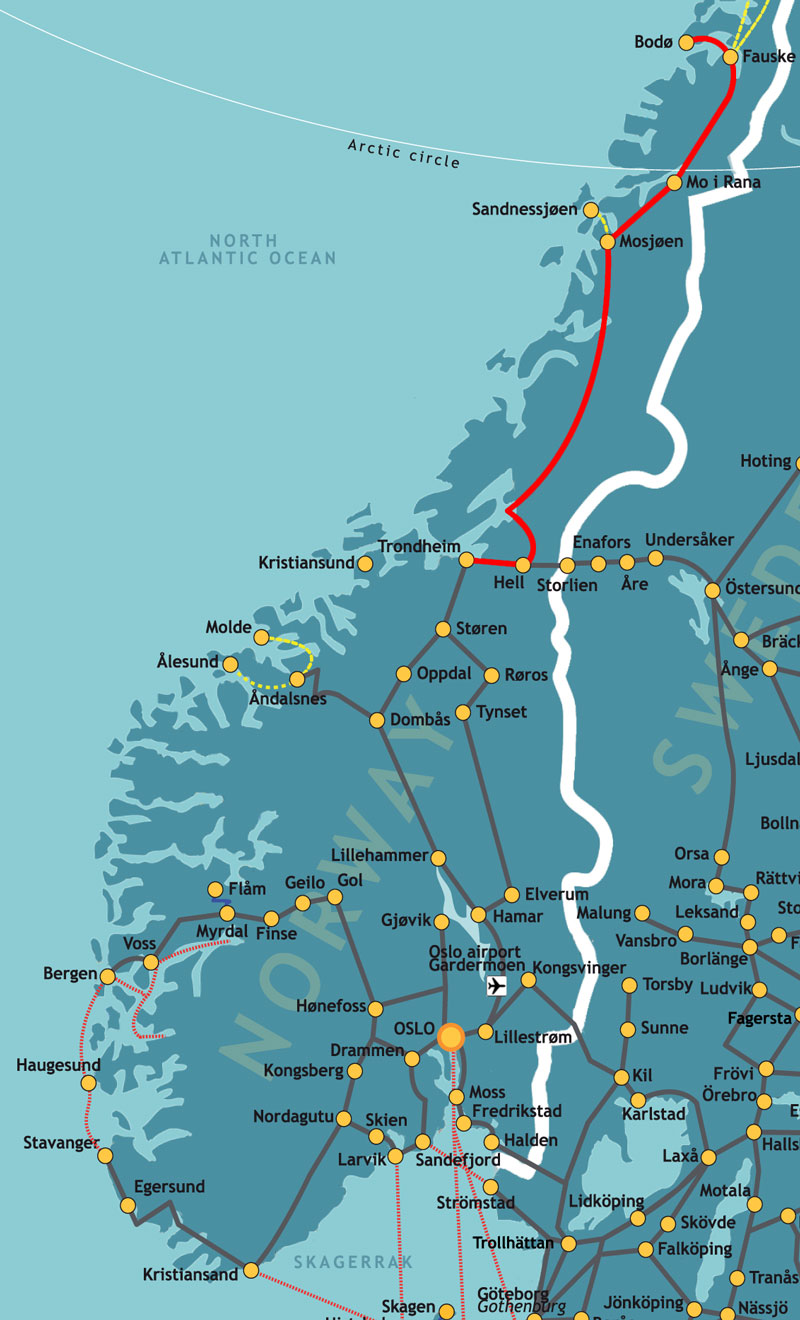 Travel on a night train during the summer and you will discover that north of the Arctic Circle, the sun never sets. Night trains have sleeping compartments that include either one or two beds, high-quality mattresses, quilts and pillows allowing for a good night sleep while you travel. And you can look forward to catching views of the midnight sun which is said to provide an energy boost. The night trains depart in the evening and reach their destination the next morning. If you choose to travel from Trondheim to Bodø, the train leaves every night at 23:40. The night train departing from Bodø leaves at 21:10.
Whereas if you travel in the winter, you will get the chance to observe nature's very own fireworks: the aurora borealis, also called northern lights. The sky turns into a gigantic canvas where various shades of green spread over the horizon. It's a phenomenon that only takes place at night, but in northern Norway, the winter nights last several months which means that you'll get the same experience even if you travel during the day. In addition to the night train, the Nordland Railway runs once during the day in both directions. The train from Trondheim to Bodø leaves in the morning at 7:38 and the train from Bodø to Trondheim leaves at 12:10. Regardless of the train you board, you can pre-order a meal for your journey or grab a bite in the restaurant car which offers tasty hot dishes, snacks, salads and drinks.
The Nordland Railway is an ideal way to discover Norway's wild and beautiful far north, travel past the Arctic Circle and witness the midnight sun or the northern lights in a single journey. Get your ticket for a day train or a night train, travel in the summer or in the winter and you will live a unique experience like no other!
To book the Nordland Railway, go to this page and enter Bodø and Trondheim as your stations of origin and destination.