Travel throughout the United States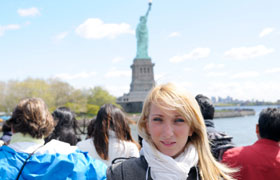 With 46 states and over 500 destinations, the options are endless when traveling on Amtrak's rail network.  It's hard to know where to begin so here are just a few favourite American train routes you could enjoy with Amtrak's USA Rail Pass:
The Coast Starlight: Seattle – Portland – Los Angeles
En route daily between Seattle and Los Angeles, the Coast Starlight passes through Portland, Sacramento, the San Francisco Bay Area and Santa Barbara.  This West Coast Adventure features some stunning coastal scenery, from the snow-covered peaks of the Cascade Range, to shorelines of the Pacific Ocean!
California Zephyr: Chicago – Denver – San Francisco
The Zephyr runs daily between Chicago and San Francisco, passing through the plains of Nebraska to Denver, across the Rockies to Salt Lake City, and then through Reno and Sacramento into Emeryville/San Francisco.  Scenic highlights include passing through the heart of the Rocky Mountains, and further west through the snow-capped Sierra Nevadas.
Acela Express: Boston – New York – Philadelphia – Washington, DC
This Express train reaches speeds up to 150 mph, along with frequent departures and all the amenities, you can stop off at a few of America's big cities, including Boston, New York, Philadelphia and Washington, DC.
With 30 or so other routes to choose from, you will certainly find an itinerary with the perfect mix of scenic beauty, big cities and popular attractions along the way.  Exploring with a USA Rail Pass offers great flexibility as you can select the number of travel segments and corresponding pass duration from the following 3 options:
8 Segments in 15 days
12 Segments in 30 Days
18 Segments in 45 Days
A travel segment is any time you get on and then get off a vehicle (train, bus, ferry or other allowable leg).