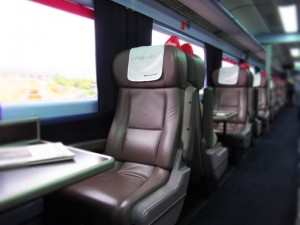 Seating and amenities make for a comfortable journey
If it's your first time traveling on UK trains then you'll be happy to hear that the seats are comfortable and many trains have extra amenities.  On our recent trip around England, Scotland and Wales, we experienced firsthand the joys of traveling on board BritRail.  Here's what you can look forward to:
Clean, comfortable seating, with big panoramic windows to enjoy the views.
Trolley service in both first and standard class, where you can buy beverages, snacks and sandwiches.  Some trains also have a café car where you can purchase food and beverages.
Tidy bathrooms, often surprisingly spacious and found on roughly every second passenger car.
Space at each carriage's entrance to place your luggage and a shelf running above the seats to store smaller items.
Some trains have special carriages such as 'Quiet Carriages' great for taking a nap, working or reading.  We also rode on a train with an 'Entertainment Carriage', where each seat had a personal TV, complete with movies, news and more.
Many trains have power outlets located just above or below the tables, great for plugging in your laptop.
Each carriage usually offers a selection of seating arrangements, from 4 seats facing each other with a table in the middle, to rows of 2 seaters back to back, to some single seating in first class.  The table seating is often popular as it's a great occasion to pull out a crossword, enjoy a family lunch or play a game amongst friends.
First class service:
o   It depends on the train, but generally you can enjoy trolley service offering free tea, coffee and cookies.
o   Free newspapers are also generally offered to first class passengers.
o   On select trains there is a First Class At Seat Menu, offering hot meal options that can be ordered at your seat and enjoyed en route.
o   Select trains also offer free WI-FI in first class.
With a BritRail Pass in hand, sit back, relax and enjoy the views!