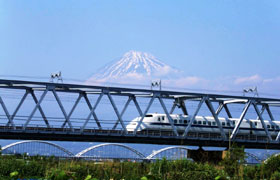 Includes travel on 'bullet' trains & all
The Japan Rail Pass offers great value! It's an economical way to travel throughout Japan's extensive rail network, considered to be one of the most efficient in the world. This includes travel aboard the world famous Shinkansen 'bullet' trains, limited expresses and local services.
Specifically a Japan Rail Pass can be used on all Japan Railways (JR) lines and the Shinkansen 'bullet trains' (except the pass is not valid for "NOZOMI" trains on the Tokaido and Sanyo Shinkansen lines). The Japan Rail Pass is offered by the six companies that make up the Japan Railways Group (JR Group), including JR Kyushu, JR Shikoku, JR West, JR Central, JR East and JR Hokkaido. View the map.
Select your Japan Rail Pass among the following validities; 7, 14 or 21 consecutive days. In Japan, first class is called Green Class and standard class is called Ordinary Class. Available discounts include, kids between the ages of 6-11, pay approximately half the adult fare. Also kids under the age of 6 travel free, if not occupying a seat and accompanied by an adult Japan Rail Pass holder.
Another rail pass offered by ACP Rail for travel in Japan is the East Japan Rail Pass and until November 14th, 2010, you can get a special 3 day pass, while realizing great value in Japan this Autumn.
A 3 day Japan Rail East Pass Special Offer is available to overseas visitors for travel between September 1st and November 30th, 2010*, with fares available for adults and children in Ordinary (standard) class. With the JR East Pass Special Offer, passengers will enjoy great savings and a shorter pass validity of 3 flexible travel days, within a 10-day period starting from the first day of use.
*The e-ticket must be exchanged in Japan between September 1st and November 21st. The exchanged pass can be used during the travel period from September 1st to November 30th, 2010.