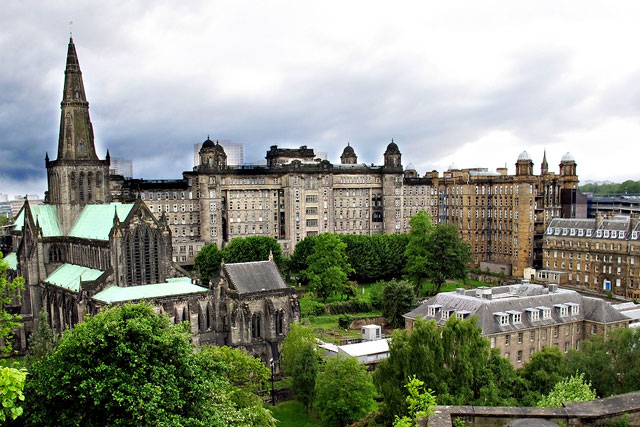 By Patti Nickell
GLASGOW, Scotland.  Eight of us sat around a table – flasks, tubes and bottles filled with liquids lined up before us.  Under the watchful eye of "Professor" Alastair, we mixed and mingled the liquids, adding a dollop of one and a soupcon of another to our beakers.
Every so often, an excited "aha" seemed to indicate someone had hit on the magical formula.  Liquids frothed; Alastair beamed, and we continued mixing with a maniacal frenzy.
Fortunately, it was nothing sinister.  We were at Glengoyne Distillery, just outside Glasgow, in a class designed to teach us to blend our own Scotch whisky. Combining a bit of the sweet, mellow Speyside whisky with the peaty, smoky distillation from Islay, I attempted to get as close to the Glengoyne sample as possible.
When I was satisfied that I couldn't improve on my product, I slapped a label with the name I had chosen – Misty Isles – on the bottle, and declared myself a distiller of Scotch whisky.  I doubt my concoction will rival Glenfidditch or Glenmorangie any time soon, but the afternoon provided us with a lot of laughs and great fun, and just a hint of what Glasgow offers visitors.
"London of the north"
On previous trips to Scotland, I've focused on Edinburgh in the south or the majestic Highlands in the north, and rarely given Glasgow a second thought.  I knew only that it was Scotland's largest city, that during the Victorian and Edwardian periods, it was second only to London in wealth and power, and that the ingenuity of Glaswegians seemingly knew no limits.
The ships they built have sailed every sea; their locomotives have pulled trains on six continents, and their engines have powered the world's industry.  In more modern times, the city was chosen as the 1990 European Capital of Culture.  Still, in my mind, the elegance of Edinburgh and the grandeur of the Highlands always overshadowed Glasgow.
This time I gave Glasgow its due, and I'm glad I did. With a hip, edgy sensibility and a thriving arts, design and culinary scene, it's become known in Britain as "the London of the north."
To see why, take a stroll along the "Style Mile," home to more than 200 stores, many of them exclusive to the area. From Argyle Street, with its vintage shops and one-of-a-kind boutiques, to Buchanan Galleries, anchored by the British department store John Lewis, this is the place to shop.
Merchant City, the epicenter of Glasgow's 19th century wealth, is historic and atmospheric.  Once home to warehouses of tobacco lords and cotton kings, it's now packed with artists' ateliers and galleries.
Founded in 6th century
With its current coolness quotient so high, it's hard to believe Glasgow dates to the 6th century, when the Welsh missionary St. Mungo built a monastery on a tributary of the River Clyde, which cleaves the city in two.
St. Mungo, whose miracles involving a bell, bird, tree and fish are depicted on Glasgow's coat of arms, was a benevolent sort – in direct contrast to the city's other dominant religious figure, the stern and dour John Knox, founder of Presbyterianism.
This makes it all the more surprising when you discover that the statue of a glowering Knox dominates the Necropolis, a hillside cemetery that overlooks the cathedral named for the gentle saint (his remains are thought to rest in the crypt.)
Although its roots go back to antiquity, Glasgow's architecture is predominantly Victorian and Edwardian. One of the best places to see this is in the West End, home of its beautiful university and two magnificent free attractions.
The red towers and turrets of Kelvingrove evoke the grandeur of a palace.  Opened in 1901 and recently refurbished, it houses a respectable collection of Dutch masters and French Impressionists, and Dali's Christ of St. John of the Cross.
These are the works highlighted in the museum brochure, but I found myself lingering in the Scottish Colorist Gallery, with its bold, vivid canvases, and the gallery devoted to the Glasgow Boys, a group of painters and sculptors who introduced modern art to the city from 1880 to 1900.
If you want the ultimate Scottish artistic experience, check out the two places most closely associated with Glasgow's favorite son, 20th century architect Charles Rennie Mackintosh.  The Mackintosh House, also in the university area and also free, is a replica of the interiors of 6 Florentine Terrace, the home of Mackintosh and his artist wife, Margaret, from 1906 to 1914.
Reassembled on one side of the Hunterian Museum, it is an homage to Mackintosh's vision, which combined elements of the Arts and Crafts movement with Art Nouveau and Art Deco styles.
For a better perspective on the architect, take the free, student-led tour of the Glasgow School of Art.  Designed by Mackintosh over a 13-year period, it is widely considered his masterpiece (the furniture gallery and the stunning library are highlights.)
A blending of past, future
To get some idea of how enterprising Glaswegians have taken their city's rich past and imbued it with a 21st century sensibility, you have only to look at the Corinthian Club Restaurant and the new Blythswood Square Hotel.
To call the Corinthian Club a restaurant is like calling the ceiling of the Sistine Chapel a roof.  In fact, some might think of the Sistine Chapel as they are ushered into the club's opulent ground-floor brasserie.  With its circular glass ceiling rotunda and teardrop chandeliers, it's jaw-dropping in its magnificence.
The brasserie is only one of the rooms that sprawl over five floors of what used to be Glasgow's High Court, dating to 1842.  Where bewigged barristers and judges once meted out justice, revelers now flock.  A multimillion pound refurbishment has resulted in entertainment venues ranging from a casino to a bubble-gum pink champagne bar.
Be sure to check out the Bootleg Bar, a paean to 1920s American speakeasies, except for the mosaic floor made of 500,000 pieces of colored tile.  The face on the floor formed by the tiles isn't of notorious gangsters Al Capone or Legs Diamond, but of a young Queen Victoria as she appeared on an original Bank of Scotland note.
If dining at the Corinthian Club is a must, you would also do well to check into Blythswood Square Hotel.  Situated on its namesake square in the city center, the building began in 1823 as the Royal Scottish Automobile Club.  With the British penchant for sumptuous private clubs, it has all the requisite features – marble fireplaces, ornate ceilings and rich wood paneling.
It also has 100 stylish rooms, a lively bar and restaurant, luxury spa and a private 40-seat screening room.
After a few days in Glasgow, I came away with a new appreciation for its historic past and vibrant future.  In the 6th century, founder St. Mongo reportedly liked to utter a pray, "Let Glasgow flourish."
He would be happy to know that it has done just that.
Going on BritRail:   As someone who has gotten increasingly disenchanted with air travel, I find it a pleasure to take one of BritRail's clean, comfortable coaches to my destination.  An upgrade to Business Class doesn't cost an arm and a leg; the seats are spacious and comfy, and on longer trips, you get something to eat more substantial than the stale peanuts airlines provide.