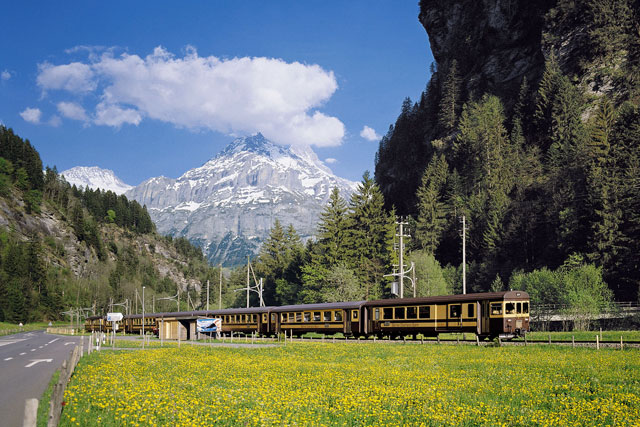 Interlaken to Bern by train
One of Switzerland's most popular journeys is the train ride between Interlaken – Bern, which  is only 52 minutes long, and takes you on a trip along Lake Thun and into cities that combine relaxing atmosphere and outdoor sports fun. It's possible to start the journey from either city and many travelers also choose to make a stopover in Spiez.
Interlaken is a popular destination for travel, serving as a base camp for outdoor activities. Since it's surrounded by the Bernese Oberland Alps and is located between two lakes: Lake Thun and Lake Brienz, the city attracts mountain hikers, skiers and river rafters alike. Interlaken is also at the doorstep to the Jungfrau Railway, which leads to outdoor resorts and towns like Kleine Scheidegg, Schnyge Platte and the summit of Mount Jungfraujoch, aptly named Top of Europe. 
If you choose to start your journey from Interlaken, you'll reach the town of Spiez in 21 minutes. The town is surrounded by Lake Thun, hills and vineyards, the Bernese Oberland Alps and Spiez Castle, making for postcard-worthy panoramas. The town's main activities include cruises on Lake Thun and visits to Spiez Castle and its 1,000 year old church. There are loads of outdoor activities at your disposal including sailing, windsurfing and fishing on the lake, as well as, biking and hiking trails to explore and more. 
Once you reach Bern, you'll find the capital of Switzerland shows a mix of culture, leisure and entertainment in a city where people are known for being laid back and enjoying the present moment. In this context, it's somewhat fitting that the Clock Tower in the Old City is among Bern's more famous landmarks. Despite being around for almost 500 years, the astronomical clock elegantly shows the time with moving figures, complex movements and, of course, the precision of a Swiss clock! Visitors typically gather a few minutes before each hour to witness the workings of the decorated tower as it marks the passage of time. 
Get your train ticket and travel between Interlaken – Bern to discover memorable cities along Lake Thun. 

European travelers can also use their Swiss Pass and head to Zurich, Lucerne, Lausanne, Geneva or any other Swiss destination in addition to the journey on the Interlaken – Bern route.