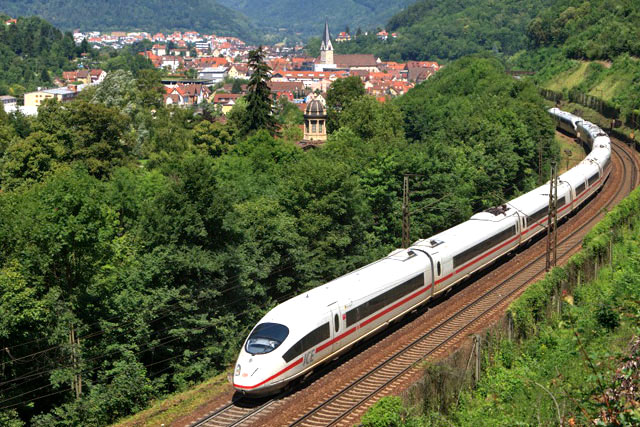 Save up to 20% off select German Rail Passes
Purchase your German Rail Pass between February 1st and April 30th, 2014 and save up to 20% on a 10-day pass or up to 10% on a 5-day pass with the German Rail Pass Springtime Special. Your promotional pass is valid for travel anytime between February 1st and May 31st 2014.
Spring is a great time to visit Germany, especially if you want to discover a few of Germany's seasonal celebrations. Frankfurt's Spring Fair, for instance, is an annual folk festival that dates back to the 14th century. Travel to Frankfurt between April 11 and May 5 to join in on this family friendly festival. Long Nights of Music in Munich is hosted on May 17, during which over 100 venues will hold more than 400 concerts all over the city. On April 30, it's Witches' Night, where people dress up as witches and swarm to Mount Brocken, in the region of Harz to light bonfires and perform dances and rituals around the fire, celebrating the beginning of spring.
Traveling by train is an easy, fast and comfortable way to reach different cities in Germany. Take advantage of the German Rail Pass Springtime Special and discover one of Europe's most efficient rail systems, connecting almost every city, from the larger urban centers to the smaller villages, making it easier to enjoy every corner of Germany during the blooming season. 
The high speed Intercity Express (ICE) trains can reach speeds of up to 320 km/h and offer frequent departures out of several major cities. German ICE trains make it possible to travel between Berlin and Hamburg in as little as 1 hour and 41 minutes or reach Frankfurt from Munich in 3 hours and 15 minutes. In addition to the fast rail services they provide, ICE trains include lockers for your luggage, restaurant cars, on-board catering, audio connection to radio stations, at seat video screens in First Class and Wi-Fi for internet access on several routes.
The German Rail Pass Springtime Special is available for the 5-day and 10-day German Rail Passes, German Rail Twin Passes and German Rail Youth Passes in First Class and Standard Class. German Rail Twin Pass owners will find this promotion particularly attractive as two adults traveling together already save up to 25% off regular adult prices. Now, with the Springtime Special they can add extra savings of up to 20% off.
The German Rail Pass Springtime Special is non-refundable.