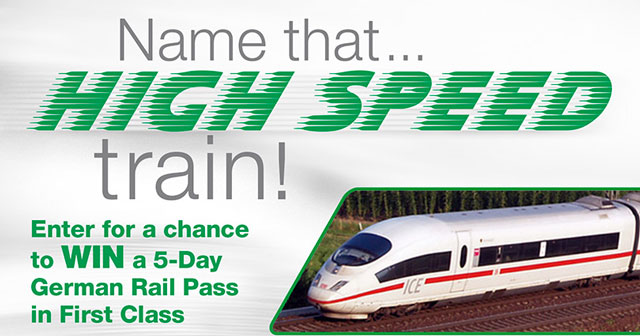 Are you a train expert?
Visit our Facebook page and name that high speed train for a chance to win
1 of 4 five-day German Rail Passes in First Class!

To participate visit our Facebook page, click on Name that High Speed Train and correctly identify the 3 high-speed trains.
High speed trains are a great way to make the most of your travel time, as some trains run at blazing speeds exceeding 300km/h! By entering for a chance to win a German Rail Pass in First Class, you may be lucky enough to travel on Germany's very own high speed trains, including the popular Intercity Express (ICE) trains which feature convenient connections between major cities, individual video screens at your seat, à la carte menu meals and Wi-Fi internet access on select trains.
Be sure to check back weekly to Name that High Speed Train as we'll be displaying more trains to test you, fellow train enthusiasts! Plus earn bonus entries when you SHARE this contest with your friends.
Good luck!
Participation in this contest is subject to the official rules. German Rail Passes can only be used by people residing outside of Europe, the Russian Federation and Turkey. Contest runs from July 9 – August 4, 2013.