By Sherry Ott
When you look out a plane window you get such an unusual perspective of the world.  It's small, organized, tidy, and very far away. It hardly feels real. When I'm flying into a new country, I often feel like there is a big barrier between the country and myself until I land and can actually see it up close. Thanks to discount airlines all over Europe, many people choose to see Europe from 30,000 feet.  However, I prefer to have my feet close to the ground when I really want to see an area, which is why I chose rail travel as my way to experience Europe this spring.
With my Eurail Global Pass from ACP Rail International, I had the ultimate flexibility and first class service. I could travel any 15 days within a 2 months period with access to 24 European countries.  Since I was 'stationed' in Berlin for the month of March for a work project, I decided to forgo the warm, sexy Southern Europe and instead stay in the north and see a few new countries I had never set foot in before. My plan was to cover Belgium, Northern Germany, Netherlands, Denmark, and Sweden. Thanks to the flexibility I gained with my Eurail Global Pass, more than once during the 2 months, I ended up in cities that I had never anticipated stopping at – such as Hamburg, Cologne, Liege, and Varberg.
In two months, I saw beautiful snow covered forests, green rolling hills, villages, fields of flowers, abandoned buildings, cemeteries, and canals. Here are some of my highlights.
Liege Belgium (via my Brussels to Frankfurt leg)
I hopped on the first class car with no ticket thanks to my Eurail Global Pass and enjoyed passing through the surprising Belgian countryside of rolling hills – I thought Belgium was supposed to be flat!  I decided to make a quick stop at the Liege Train station, which was listed as one of the world's top 5 train stations worth a stop.  After all, it's not just about the train; it's also about the train stations. Train stations in Europe evoke this old world feel offering gorgeous silhouettes lighting and open spaces.  However the Liege, Belgium station was unusual – it was modern, sleek, and bright. I thought it deserved a little photo shoot.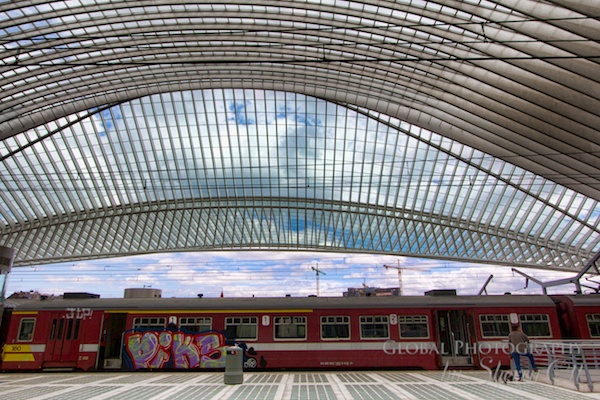 Berlin
I had a whole month to explore Berlin and I was on a mission to find the unusual and quirky sides of Berlin. I saw many of the main attractions, and thoroughly enjoyed the variety of food that Berlin offers. However, one of the things I enjoyed most was to take the train on Easter Weekend to the little historical town of Beelitz. I used my ticket to take a regional train about one and a half hours outside of Berlin to do a very special (and somewhat creepy) photo shoot. Beelitz is home to an old sanatorium 'campus' which treated Tuberculosis patients.  The site has been abandoned since 1994 and now is in the familiar limbo of many historic, unused buildings in/around the Berlin area.  While the government and owners decide what the fate of the Beelitz campus is, companies like Go2know.de have special permission to run photography tours through the crumbling buildings.
I toured to the women's section of the sanatorium and I was able to walk around the snowy grounds and inside 3 main buildings and photograph to my heart's content for 4 hours before heading back to Berlin on the train.
Amsterdam
Spring in Europe means flowers and my train ticket was my chance to get to the Netherlands to see the famous tulip fields.  However, Mother Nature was tough on Northern Europe this spring – and the tulips were being a bit shy.  However, I quickly learned that there was way more than just tulips in the Netherlands.  I went to Flora Holland to see the world's largest flower market and auction.  Keukenhof Gardens was also a must see for any flower lover – there I saw a variety of hyacinths, greenhouse tulips, and daffodils.  I also made a stop at the Keukenhof castle across from the famous gardens.
Click here  for the second part of Sherry's trip across northern Europe including stops in Denmark, Sweden and Germany with her Eurail Global Pass! 
Author Bio:
Sherry is a long-term traveler, blogger, and photographer with one goal in mind – to make you wish you were somewhere else. She seeks out unique travel experiences and writes about her around the world adventures on Ottsworld.com.  She's also a co-founder of Meet, Plan, Go!, a website and national travel event teaching you how you can take your very own traveling career break or sabbatical.
PHOTOS BY SHERRY OTT