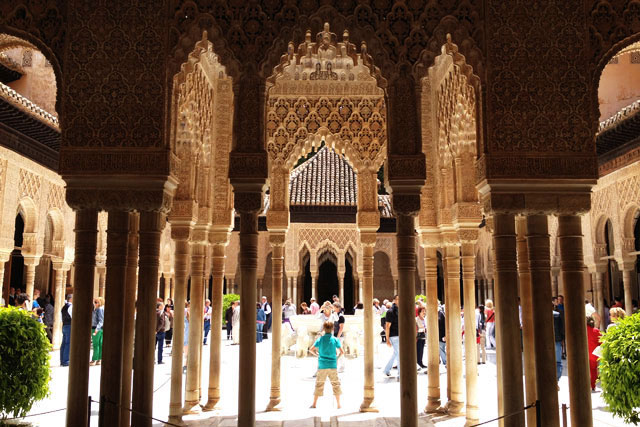 Departing from Seville, Renfe's Medium Distance train transported us to Granada in about 3 hours. We enjoyed gorgeous landscape views along the way, where I was glued to the window most of the time. Stepping off the train, you start to see glimpses of the picture-perfect setting, where the city of Granada is nestled at the base of the snow-capped Sierra Nevada Mountains.
We checked into Hotel Abba Granada, which is around the corner from the train station, to find that our room on the 9th floor offered the most fantastic views of the city, the mountains and even the Alhambra in the distance. Walking a few blocks around the hotel in the afternoon proved that all the shops and restaurants really do close for siesta, from around 2-5pm.
Once evening rolled around we opted for dinner at Bodegas Castaneda, which is referred to as an institution among locals and tourists alike. This place is loud, packed, with hanging ham, big casks, and free tapas given with each drink. The lively atmosphere has you chatting with people standing around the bar and going with the flow as you order off a Spanish menu, guessing what the ingredients may be (at least we know what queso is!) and enjoying the surprise of what's served up for dinner.
Day 2 in Granada
With a busy day in Granada ahead, we met up with our guide Maria, a lovely and very informative lady who gives walking tours around Granada. Our tour began in the Moorish quarter, where we walked through narrow streets and town squares busy with locals, while learning all about Granada's history and how the so to speak peaceful conquest of 1492 is what preserved much of the Islamic architecture, including the Alhambra's palace and gardens. From Mirador San Nicolás, a lookout providing some of the best views of the Alhambra, we continued our walk towards the city center, including a colorful street with small shops selling hippy inspired clothing and wares.
Next we took a taxi up the hill to Granada's most visited attraction, the Alhambra, receiving up to 8000 visitors a day. It's therefore advisable to get your tickets in advance. We toured the Generalife gardens, where roses were in full bloom, and the summer palace which offers great views of the Alhambra across the way. Then it was time to enter the Alhambra itself, a World Heritage Site, where the Nasrid Palaces make up the central palace complex and are known for their tile work, arches with inscribed stucco, carved wood ceilings and a fountain made up of 12 marble lions. Surrounded by so much history and beauty this is one of those experiences where you strive to take it all in as you don't want to miss a thing…looking up at the ceilings, turning in circles, walking through every archway and checking the views through every window.
Still buzzing from our Alhambra experience, we headed to Parador de Granada, a luxurious 15th-century convent converted into a hotel located within the Alhambra grounds. With a terrace and restaurant offering up exceptional views of the Generalife, it's also a great place to stop for lunch. Known for serving local, seasonal dishes such as Andalusian gazpacho, as well as classic gourmet dishes, the food was delicious, accompanied by excellent service.
How to round off a day in Granada? Head to Maria la Canastera in Sacramonte (or gypsy quarter) for a flamenco show in a cave! Decorated with old black and white photos of famous visitors and copper pots, this is the old home of Maria, a celebrated flamenco dancer who now has a square and statue named in her honor. Her son continues to run the show; an intimate ambiance where the singing, hand clapping, guitar and foot stomping is brought even further to life thanks to the cave's acoustics. And don't miss a walk to one of the lookouts along the wall to get a glimpse of the Alhambra lit up at night. Next stop, Madrid!
Thanks to our partners for making this visit to Granada possible: Air Canada Vacations, Eurail, Andalucía Tourism, Hotel Abba Granada, Cicerone Granada Walking Tours, Parador de Granada, Maria la Canastera and Renfe.
By: Angela Guezen
Photos by: Jen Crane