By Marilyn Jones
Train travel has made a day away from London an easy proposition for travelers based in the capital city. One city you might like to consider is Norwich, the most complete medieval city in England with the largest intact medieval street pattern in Europe. A quick two hour train ride will net you centuries of exploring opportunities.
The best way to get to know the city is on a City Sightseeing bus. The Norwich bus tour begins across the street from Theatre Royal. Although you can walk from the train station, I took a taxi.
The bus stops at every major attraction and shopping center throughout the city and, as an added bonus, you'll learn about the city along the way. Tickets are good for 24 hours, so take your time; there's a lot to see.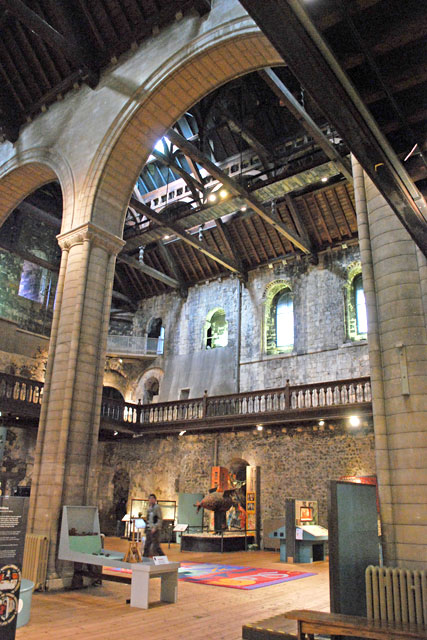 If you are interested in the city's famous medieval roots, there are several attractions you'll want to seek out. First, there's Norwich Castle. Constructed between 1095 and 1110, the castle was designed as a royal palace rather than a fortification, however, no king ever lived in it.
Over the centuries it also served as a prison. When the prison population was moved to another building in 1883, the castle was turned into a museum featuring historic aspects of the castle as well as art, archaeology and natural history.
Stepping into the keep, the sheer size of the room is incredible. Along the second floor, make sure and seek out the walkways soldiers used to patrol the castle.
Completed shortly after the castle, Norwich Cathedral is another must-see. It is the most complete Norman cathedral in the United Kingdom. A tour of the sanctuary and cloisters is impressive. Because of its sheer size and the exceptional collection of art and objects, make sure to budget enough time to fully appreciate the cathedral.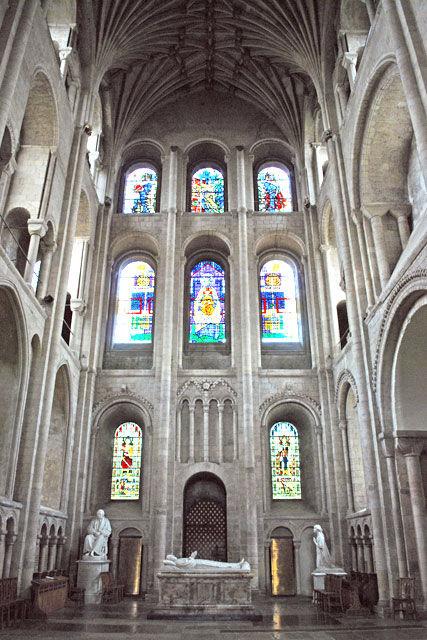 For lunch I can suggest two options: Adam & Eve pub and The WinePress@Wensum at Maids Head Hotel.
The Adam & Eve pub was built to quench the thirst of stonemasons building the cathedral. It is the oldest pub in Norwich; perhaps England.
The pub is tiny, adding to its charm. Meal selections include lots of English fare: Yorkshire pudding, sausage and mash, and trawlersmans pie with smoked fish and prawns topped with potatoes and cheese.
Maids Head Hotel is the oldest hotel in England. Touring the hotel's public rooms is a history lesson in and of itself. Menu options include medallions of beef, spinach, sautéed mushrooms, parisienne potatoes and shallot sauce; herb crusted lamb cutlets, sautéed French beans and mushroom rosemary sauce; poached salmon, sautéed potatoes, asparagus and hollandaise sauce to list a few. Me? I had the salmon. Excellent!
Close to the hotel is Elm Hill, the city's most famous medieval street. Looking much the way it did when it was rebuilt after a major fire in 1507; it was once home to prosperous merchants, craftsmen and civic dignitaries. Strolling along the cobbled street past specialty shops and cafes is like being dropped into a centuries-old painting.
A few blocks away is Dragon Hall, a medieval trading hall dating from around 1430. It is renowned for its spectacular great hall which has an impressive timber crown-post roof, and intricately carved and painted dragon.
The museum tells the story of the merchant hall's first owner Robert Toppes, international medieval trade and fifteenth century Norwich.
So if you're looking for a historic city that doesn't overwhelm, has lots of shopping and dining opportunities, and friendly folks to show you around, head for Norwich.
For more information:
Train travel is its easiest and most economical if you purchase a BritRail pass. There are several options to choose from to meet your touring needs.
For more information about other attractions, shopping, accommodations and restaurants check the website www.visitnorwich.co.uk.
PHOTOS BY MARILYN JONES
Photo 1: Elm Hill is the most famous medieval street in Norwich.
Photo 2: Norwich Castle. Although it was designed as a royal palace, no king ever lived in it.
Photo 3: Norwich Cathedral has an exceptionally large collection of art and objects.