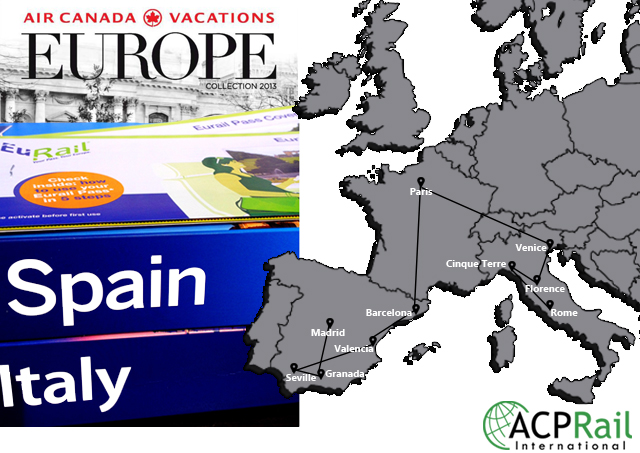 Follow Angela & Jen's travels: take two
For our fellow train travel lovers, you may recall Angela and Jen's UK Adventures from two years ago. And now we're happy to announce that we're looking forward to sharing another exciting rail trip with you…only this time, thanks to Air Canada Vacations, we're heading to Italy and Spain!
With a whirlwind itinerary featuring Rome, Florence and Venice in Italy, and Barcelona, Valencia, Seville and Madrid in Spain there will be many stories to tell and many train journeys to get us there. We'll be riding aboard Trenitalia and Renfe, which are respectively Italy and Spain's renowned modern, efficient and speedy rail networks, so we'll be sure to tell you all about the routes we take and how best to get to these popular city centers by train. Plus, as most of us enamored with travel aim to experience some not-to-miss destinations a little more off the beaten track, we've added Cinque Terre in Italy and the Alhambra in Granada Spain to our list. And let's not forget a pit-stop in Paris after journeying on the convenient overnight Thello train from Venice. Did I really just use pit-stop and Paris in the same sentence? You better believe it!
Now not to give you all the juicy details up front but with the likes of Tuscany, Michelangelo, pizza, flamenco, paella, Gaudí and much much more, I'll try not to only write about food and art (and trains of course!). But no promises, especially as isn't that what Europe and the good life is all about?!
With 16 nights and 2 Eurail Global Flexi Passes in hand, stay tuned as another amazing rail adventure is in the making. We land in Rome this Sunday so we invite you to follow our travels on ACP Rail's blog, Twitter, Pinterest and Facebook.
A big thank you to our partners for making this trip the best it can be: Air Canada Vacations, Eurail, Thello, Renfe, Trenitalia, Andalucia Tourism, Barcelona Tourism, City Sightseeing and more!