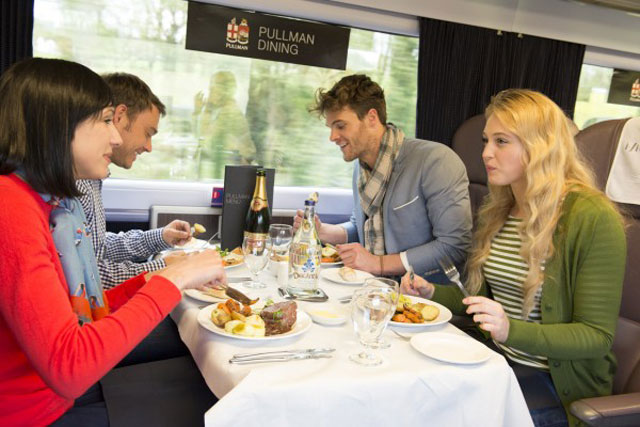 A unique dining experience on the train
One of the joys of traveling by rail is being able to order delightful meals while admiring the changing landscapes and passing scenery. The train operator First Great Western found a way to make this part of the experience even more sublime by asking famous UK chef Mitch Tonk to help develop the menu for Pullman Dining, First Great Western's premium restaurant service.
The à la carte options are divided into three savory menus that rotate on a biweekly basis. There is something for everyone whether you like roasted chicken, reared steak or grilled lamb. Also, depending on your menu, you may get the chance to order squash & spinach bastilla, mushroom wellington or Singapore vegetable & chickpea curry. The menus also include a great seafood selection. The mouth-watering dishes include scallops, gurnard, crab, shrimp and sea bass, all prepared following the instructions of a seafood expert.
Chef Mitch Tonks is an award winning food writer and owner of three restaurants in Bristol and Darthmouth. Widely recognized as one of the UK's leading experts in seafood, his input helps Pullman Dining keep its prestigious reputation for great menus and an excellent service. The Pullman Dining's tasty dishes are freshly prepared with GM free ingredients sourced from local suppliers in the South West and Wales. Simply put, Pullman Dining is a one-of-a-kind on-train dining experience.
The restaurant is available on select lunch and dinner departures between Plymouth – London and London – Penzance. You can request a table at the restaurant by contacting the Pullman Service Leader when you board*.
The new BritRail South West Pass is valid on both routes that are offering the Pullman Dining services as it covers most mainline and branch line carriages operated by First Great Western, South West trains and the Heathrow Express.
* Pullman Dining services are open to all ticket and BritRail Pass holders although, on busy services, priority is given to First Class holders. Please note that this is an à la carte menu where the price is not included in your ticket or pass.