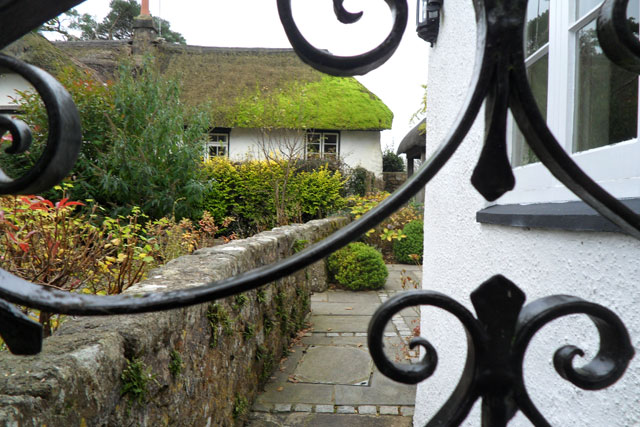 By: Ruth J. Katz
I have periodically waxed poetic about British Rail, one of the most civilized ways to travel in the United Kingdom, or for that matter—I'll go out on a limb here—the world.  We are not big train travelers in America, but the Brits, they know how to do it right. Traveling by train in the U.K. is all about punctuality and politesse, not to mention comfort and classy style.
I recently returned from a trip that started in London and included Cornwall and Devon, and BritRail's FlexiPass was my main method of getting from the proverbial Point A to Point B. (There are other terrific passes from BritRail, including the BritRail Consecutive Pass, BritRail England FlexiPass, and BritRail England Consecutive Pass, which you can get for either First Class or Standard Class), but the FlexiPass has always held me in good stead, permitting four trips within a specified time period—and dare I say that I recommend First Class?
I headed to Exeter-St. Davids and settled comfortably in nearby Bovey Castle (I could easily write pages about that, as well), and then shuttled around the countryside from there, with one of my first stops Plymouth, for a taste of pre-American history.  (There is some thought that the Pilgrims didn't actually start from there, but stopped there to pick up more passengers on the way to the New World, but no matter…for me, it was a point of great interest, as the beginning of the Mayflower 's journey to America).  And I cannot recommend a stop in Plymouth highly enough.  Inscribed on a building wall are the names and occupations of the passengers on that virgin trip to the New World and it's an overwhelming feeling to try to imagine the bravery and fortitude of these early pioneers.
Another one of my outings was to the renowned market town of Tavistock; as I usually stay on Tavistock Street when I am in London, I so wanted to see the street's namesake, and one can easily take the train to Gunnislake for a day's stop in Tavistock, where one of the country's oldest markets is.  Known, therefore, as a market town, it's a charming little city with a lovely church and a delightful market and shops.   There is a statue of the Duke of Bedford, whose holdings at one time included this area.  Not parenthetically, Sir Francis Drake, one of England's greatest navigators, and the first Englishman to circumnavigate the globe, was born near Tavistock and was, in fact, a mayor of Plymouth.  I also went to Tintagel, the birthplace of King Arthur—he of Round Table fame and Apocrypha—and climbed up to the fortress.  And for me, one of the most fun stops in my tootling around Cornwall and Devon was in the charming seaside village of Port Isaac, television home to the curmudgeonly Doc Martin, brought so convincingly to life by Martin Clunes.  I was giddy with laughter, finding "his" home, Louisa's school, Mrs. Tishell's pharmacy, and Bert Large's restaurant.
And then back on BritRail to London, in comfort and style, as I noted earlier.  BritRail now has "quiet cars" and it's a joy not to hear people yapping away on cell phones and to be able to enjoy a cuppa' in peace and quiet, and to enjoy the scenery.  BritRail's staff will make sure you have a nice hot cup of something, as they sweep through the cars many times during a trip, to be certain you have all you could want.  For me, that meant stocking up on Walker's shortbread!
Photo by Ruth J. Katz