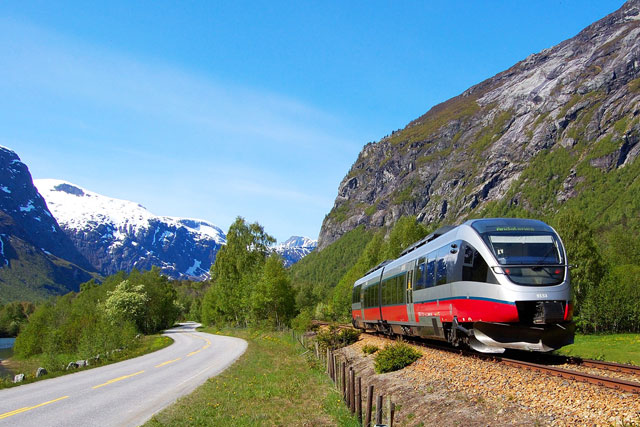 Europe is brimming with charming sights waiting to be discovered by way of rail journeys. Rail lines are often built in the midst of vast dreamy landscapes with the trains allowing you to travel long distances through the most natural settings a country side has to offer. Among Europe's most scenic rail journeys, as selected by Lonely Planet, here are three you should keep at the top of your list for your next trip.
The Rauma Line, Norway
Picture a ride through mountains, over bridges, past the tallest rock-face in Europe; the Trollveggen and alongside the emerald green Rauma river. This is what this train has to offer. The Rauma Line showcases its beauty by slowing down as you approach its most spectacular scenery and even coming to a full stop next to the Trollveggen. Clearly, the Rauma Line is the perfect ride for sightseeing.
The Rauma Line is a special scenic ride route requiring its own ticket.
Make plans to travel in the summer in you want to take advantage of the sightseeing features of the Rauma Line as they are only available from May 30th through August 30th.
The Bergen Line, Norway
Consistently named among the most scenic rail journeys in the world by travelers and experts, the Bergen Line owes its popularity to the stunning views from a location you wouldn't believe could host a rail line. The necessity to connect the country's two largest cities has lead the people of Norway to accomplish an almost impossible feat in building the highest mainline railway in Europe passing around fjords and through countless mountains.
The Bergen line can be traveled with a Eurail Pass valid in Norway. You can also enjoy a Norway in a Nutshell tour combining Bergen Line trains with fjord boat rides on some portions of the journey.
The West Highland Line, Scotland
This train line links the fishing port of Mallaig on the west coast of Scotland to Glasgow and it does so in spectacular fashion. Countrysides, valleys, rivers, lochs and mountains, the West Highland Line has everything going for it. And if that wasn't enough, the highlight of the line is the 21-arches long Glenfinnan Viaduct. The construction offers a picture-perfect view over the land. The line is so reminiscent of a fairy tale that it's been famously used in the Harry Potter films to represent the Hogwart's Express.
Access this train with a BritRail Pass, valid throughout England, Scotland and Wales or a BritRail Freedom of Scotland Pass, valid for rail travel in Scotland.