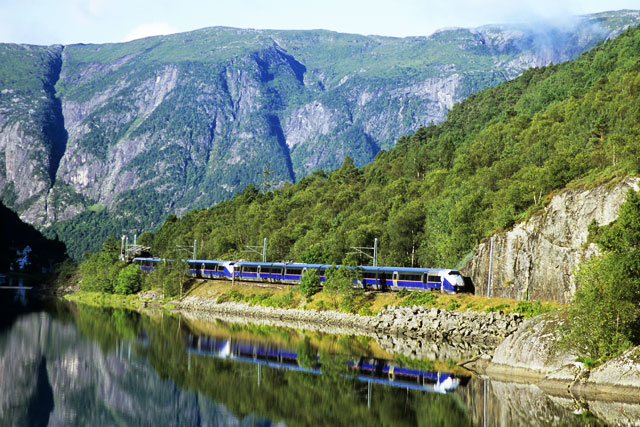 Looking for ideas and inspiration on where to go for your next trip? Or maybe you just want to relive those incredible moments from your last rail holiday. We've got you covered with a look at 10 popular point to point rail journeys. Of course there's many more where this came from, so here's just a few to get that travel bug in you dreaming up your next Euro trip!
1. Oslo to Bergen
Duration: 14 hours
The Norway in a Nutshell tour features the Oslo to Bergen route. It's easy to understand why this tour is so popular, as it includes the scenic Bergen Railway train and boat rides through some of the most beautiful fjords in the world.
2. Flam to Myrdal
Duration: 1 hour
Flam Railway's Myrdal to Flam journey is one of the world's steepest railway lines and provides some of Norway's most incredible and magnificent scenery.
3. London to Edinburgh
Duration: 4 hours 30 mins
Two of the UK's most popular destinations are best traveled on East Coast Rail's high speed trains.
4. Rome to Milan
Duration: 3 hours
Travelers in Italy will want to journey between Italy's biggest cities as quickly as possible. The Frecciarossa leaves them enough time to explore both cities.
5. Florence to Rome
Duration: 1 hour 30 mins
With a departure every 30 mins, the high speed train out of Florence is the best way to enjoy the Tuscany landscape en route to Rome.
6. Munich to Venice
Duration: 6 hours 30 mins
This scenic route passes through the Alps, treating passengers to breathtaking views of mountain-villages and romantic towns.
7. Madrid to Barcelona
Duration: 2 hours 45 mins
Spain's AVE train is one of the world's fastest long-distance passenger trains. It can reach a maximum speed of 350 km/h (220 mph).
8. Venice to Florence
Duration: 2 hours 15 mins
Florence, the birthplace of Italy's Renaissance, has proven to be a destination of choice for romance and art lovers.
9. Amsterdam to Prague 
Duration: 14 hours 30 mins
This journey between the Netherlands and Czech Republic is the only overnight train on this list. The overnight train remains a favorite among long distance travelers.
10. Cologne to Berlin
Duration: 4 hours 30 mins
Germany's ICE train between Cologne and Berlin runs through the highest mountain range in northern Germany: the picturesque Harz Mountains.