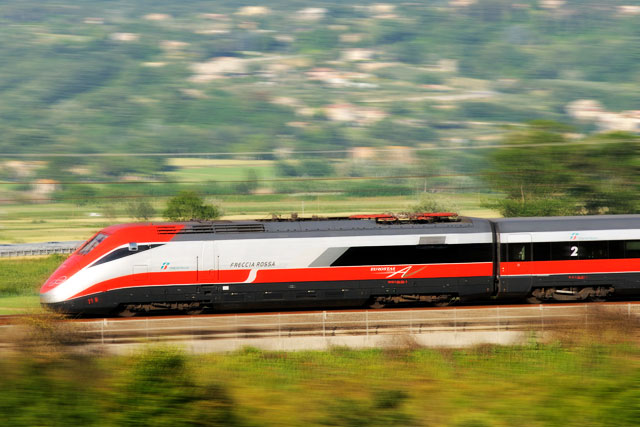 Rome – Milan – Venice – Florence – Naples – yes, please!
The long and narrow shape of Italy makes train travel an ideal way to quickly get around the country. Italy's efficient network of high speed trains allows you to appreciate the rural landscape as well as visit many of the country's highlights during your vacation's numbered days. Below are five popular train routes chosen by travelers.
Most people arriving on international flights for a holiday in Italy will land in Rome. The popular Rome to Milan route goes via Trenitalia's AV High Speed FRECCIAROSSA trains. With service every hour, traveling between Italy's capital city (Rome's Termini Station) and high-fashion Milan (Centrale Station) is easy. The journey lasts 2h59m and the ride is smooth and very comfortable.
Rome, also known as the eternal city, is Italy's bustling capital, where modern meets ancient. Must-see sights include the Colosseum, Arch of Constantine, Pantheon, and the Forum. A visit to the Vatican museums and beautiful St. Peter's Basilica is certainly worthwhile.  Be sure to some time on the Spanish Steps eating a gelato and people watching to soak in the atmosphere or Rome. Finally, make a wish and toss a coin in the Trevi Fountain before you leave.
While in Milan, be sure to check out the amazing cathedral named Milan Duomo. Elevators whisk you to the top of the roof for a small fee, allowing you up-close and personal views of the spires, as well as a great look over the plaza. North of the Duomo is the Golden Quadrilateral, the land of high-end shopping featuring shops of the big-name Italian design houses, such as Armani, Versace, Missoni and more.
Travel time by FRECCIARGENTO trains between Rome (Termini Station) and Venice (Santa Lucia Station) takes about 3h32m.
Venice is a city for strolling. The narrow walkways and canals give way to charming shops, picturesque bridges, small plazas and waterfront views. From Venice, you can hop on a fast boat to Murano and Burano, two islands known for their glass work and lace work. Of course, the ultimate in Venice is to rent a gondola for a ride along the Grand Canal.
From Rome, many travelers head north to Florence. This is a short 1h30m train ride that takes you from Rome's Termini Station to the Santa Maria Novella Station in Florence. What brings so many people to Florence?
Florence is an art center where visitors delight in viewing masterpieces. The Uffizi Gallery has works of art that cover many periods. The romantic Ponte Vecchio bridge lends itself to spectacular photography, and be sure to set time aside for Palazzo Vecchio.
High speed trains connect Rome (Termini Station) to Naples (Centrale Station) in less than two hours, while the regional trains take about three hours. Naples is a UNESCO World Heritage site due to its amazing historic center. Ponder over the various artifacts at the National Archeological Museum and visit the cathedral. While in Naples, you must try authentic Italian pizza. The city of Pompeii, another UNESCO site, is an easy day trip from Naples and well worth the visit if your schedule permits.
This route takes you from the bustling, manufacturing, banking, and fashion-frenzied city of Milan, west of Venice. The ride aboard FRECCIABIANCA trains takes about 2h35m and departs from the Centrale Station in Milan and arrives in Santa Lucia Station in Venice.
Italy's great network of high speed trains delivers quick and efficient travel at a good value. The ability to book ahead, including reserved seating, means less worry when you are traveling. Taking the train is the easy part; the biggest challenge will be to decide which part of Italy to visit.
Shop new Italy E-tickets from Trenitalia's complete range of domestic routes!
Photo: Archivio Audiovisivi Gruppo FS Italiane