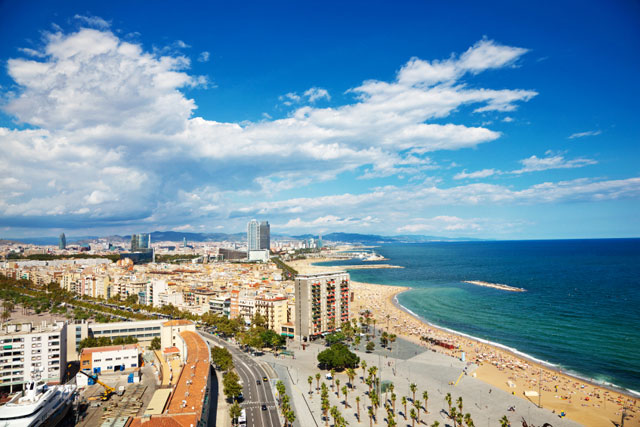 Spain is a diverse country made up of many regions, each with a strong identity, a variety of landscapes, architectural styles, and a wide choice of local cuisine. Seeing and experiencing this exciting diversity during your journey in Spain is easy if you incorporate Renfe's efficient train network in your trip planning.
The five most popular routes offer efficient service and provide travelers with an excellent way of seeing many of Spain's highlights.
The Madrid –Barcelona line connects the two largest cities in Spain by way of Zaragoza, Lleida Pirineus (door to the Pyrenees Mountains) and Tarragona. There are over 25 departures a day via the high-speed AVE between Madrid (Atocha Station) and Barcelona (Sants Station). The trip ranges from 2 hours and 45 minutes to 3 hours and 15 minutes, depending on the number of stops.
Madrid boasts the Prado and Reina Sofia museums, as well as Retiro Park, a middle-of-the-city oasis consisting of walking paths amid beautiful trees. Barcelona charms visitors with its meandering narrow streets in the Gothic Quarter and El Born neighborhoods, whimsical Gaudi architecture, and restaurant dining on the Barceloneta waterfront.
Madrid – Seville (via Cordoba)
Another trendy train route is the Madrid (Atocha Station) to Seville line, which takes travelers from the capital to the heart of Andalucia. This route is served by AVE, Altaria and Alvia trains and it takes approximately 2.5 hours to get to Seville. Home to a grand cathedral, Moorish palace, a maze-like Jewish Quarter, and a lively flamenco scene, Seville is a popular spot for visitors. It is also a great jumping-off point for exploring the white hill towns.
This route also goes through Cordoba (1 hour and 45 minutes from Madrid), a quaint and cozy town that is famous for its Mezquita-Catedral, a must-see World Heritage Site. Cordoba is made up of charming narrow streets and alleyways that have delighted many adventurers.
Madrid – Malaga (via Cordoba)
The Madrid (Atocha Station) to Malaga line transports travelers from the bustling urban capital to a lively Spanish port city on the Mediterranean Sea. The trip takes approximately 2.5 to 3 hours, depending on the train you select. There are about ten trains a day. On the way to Malaga, the train goes through Cordoba (1 hour and 45 minutes from Madrid).
Malaga blends the energy of an exuberant port city with the charm of an historic center with narrow streets and several new museums. Being the birthplace of Pablo Picasso, a museum has been devoted to his work. The city has a lively bar and nightlife scene, where the fun stretches into the early morning hours.
The train ride stretches between the capital of Madrid and Spain's third largest city, Valencia. Travel time between Madrid (Atocha Station) and Valencia (Estacion Nord) ranges from 1.5 to 2 hours, depending on whether you choose and AVE or Alvia train.
Valencia is a sea-side city and home to Spain's famous rice dish, paella. Stunning architecture, a maze-like historic center, and a sandy beach perfect for lounging are what draw people to this city. Many visitors come to Valencia in the Spring to witness the five-day festival of Las Fallas.
This route takes travelers from the Catalan heartland in the northeast to a lively port city in the south of Spain. There are only a few trains a day along this route. Opting for the high-speed AVE makes the journey a 5.5 hour trip, whereas the slower Altaria train more than doubles that time.
No matter which train route you choose, you will find that traveling on Spain's high-speed rail network is efficient, easy and a good value. The trains are comfortable, and with obtainable reserved seating, your journey will be a breeze.
Shop Spanish Train Tickets
With the complete lineup of domestic Spanish routes, simply enter your journey details and select a "Renfe E-Ticket". Then print your ticket and you're ready to travel! Shop Spanish E-Tickets