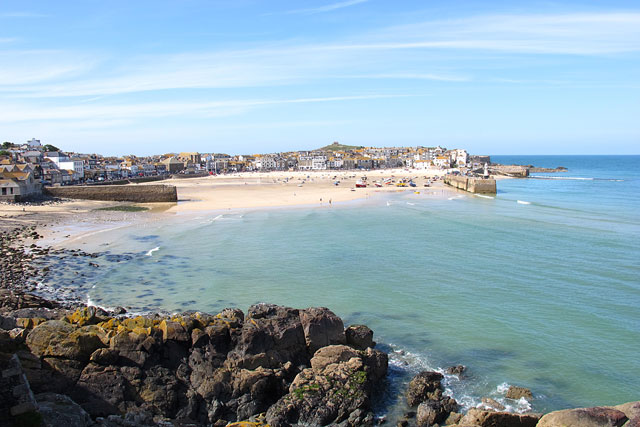 By Sharon Whitley Larsen
"You must go to St. Ives!" our British friend in Yorkshire told us. My husband Carl and I, longtime Anglophiles, have toured most of the United Kingdom — mostly by train, which we love. Recently, after revisiting North Wales and Liverpool and with our eight-day BritRail Flexi-Passes in hand, we were trying to figure out where to go after our London stop.
We had never been to Cornwall and had heard wonderful things about its gorgeous green scenery and beaches.
"We could take the overnight train there," Carl pointed out.
And that's just what we did. For about an extra $100 each, we reserved our own first-class accommodations on the First Great Western Night Riviera Sleeper from London to Penzance, about an eight-hour trip.
The sleeper train is a win-win: Tourists can use every valuable moment of daylight to sightsee and save on the cost of a hotel room while journeying to their next destination. And, especially with train travel, often the journey is as much fun — if not more — than the destination.
We arrived at the first-class waiting lounge at London's Paddington station around 9 p.m. to relax before boarding the train. The modern room, with a flat-screen TV, tables and black leather chairs, also had complimentary snacks and magazines. (In an earlier era this same room had served as Queen Victoria's waiting room.)
At 10:40 p.m. an attendant announced that we could board. Carl took our larger luggage to a separate car as I followed several businessmen and retired couples to Carriage F with our carry-ons. The attendant then took wake-up call times ("We arrive before 8 — would you like a call after 7-ish?") and complimentary breakfast orders: "Cereal, croissant or bacon roll; coffee, tea or orange juice." We ordered the bacon rolls, Carl asked for tea and I requested coffee.
My blue-carpeted, compact, air-conditioned, nonsmoking, first class cabin — about 9 feet by 6 feet — had a single berth (another above folds down bunk bedlike so the compartment can house two passengers). It was made up with cotton sheets covered by a blue blanket and two comfy pillows. There was a countertop underneath the window that lifted up to reveal a small stainless-steel sink; above the window was a shelf with a plastic cup, bottled water (train tap water is not for drinking), emergency alarm and window cutter. There were also shaver and electric outlets, a reading light, attendant call switch, temperature control, a couple of hangers, a full-length mirror behind the door, a towel and a toiletry kit that included soap and toothpaste. Toilets are located at each end of the cars.
There was also a flat-screen TV above the end of the berth with VOLO In-Train Entertainment System. Headsets (audio) were available for purchase in the Lounge Car. Available for viewing were several dramas, documentaries, comedies, children's and sports shows. Among the choices were "Downton Abbey," "Grand Designs: Isle of Wight," "The Hotel Inspector" and "Designer Travel: Hong Kong." No train travel features, I was amused to note.
A nice young man passing in the corridor told us, "You'll have to get the attendant to lock the door if you go to the Lounge Car." Normally Carl and I are trusting on train trips and have never locked the door when we leave — or have had any possessions stolen. (Of course, we always carry our passport and money with us.)
At 11:20 p.m., Carl and I closed the door to our cabins and headed to the Lounge Car, where we could order food in a small galley area to eat at a table in the dining section or take back to the cabin.
I had the cheese ploughman's sandwich, chips and a Chilean sauvignon blanc; Carl ordered a whiskey and chicken salad sandwich — total cost about $25. The blue-carpeted Lounge Car, with several tables and comfortable seats, soon filled up. Passengers chatted, read newspapers or looked out the window.
"I'm looking forward to a good night's sleep," one older man commented as he yawned. And I agreed.
At 11:45 p.m. the train conductor's whistle blew. All aboard!
"There we go," said Carl, and we slowly departed, the lights of London gradually dimming as we headed west toward the dark countryside.
After eating and sipping our drinks, we headed back to our cabins. I closed and locked the door, washed my face, put on comfy pajamas and got into the beckoning berth. I flipped on the TV, but since I hadn't purchased the headset, I had no sound as I watched a rerun of "Downton Abbey." But I especially enjoyed seeing it again since we had just toured Highclere Castle outside London where it was filmed.
Due to the late night and train swaying, I quickly fell asleep, occasionally waking to passing lights and train sounds. The next thing I knew the train was stopped and I could hear people outside. I was so relaxed, I didn't want to get up. But I went to the window to open the shade. Sunrise, and we were in Plymouth.
Some 90 minutes later, after dressing, having our morning tea, coffee and bacon rolls (brought to us by our cabin attendant), we arrived in Penzance. Since we had booked a hotel conveniently located across from the train station, we just rolled our luggage across the small street.
Over the next two days, again with our BritRail Flexi-Passes in hand, we boarded the local train for the 20-minute scenic ride to St. Ives, a lovely, artsy beach town where we relaxed and relished our time. We strolled along the water, people-watched, attended a church bazaar, browsed in art galleries, dined on wonderful seafood and vowed to return — on the sleeper train, of course.
WHEN YOU GO
Important: BritRail Passes, which can be bought up to six months in advance, must be purchased before departure from North America and are available only to those passengers residing outside the United Kingdom. Be sure to have your BritRail Pass validated at a train station prior to using it.
For information on purchasing the BritRail Pass or reserving a sleeper berth supplement, please see BritRail, www.britrail.net; ACP Rail International, www.acprail.com; or call 1-866-BRITRAIL (1-866-274-8724). Booking prior to leaving home (up to 12 weeks in advance for a sleeper berth) is a good idea during the peak season.
We stayed at the Longboat Hotel in Penzance: www.thelongboathotel.net., which is ideally located across from the train station and features reasonable prices, good food and a friendly staff.
In St. Ives we dined at the Loft Restaurant and Terrace on Norway Lane, highly recommended by locals. Great food and views from the deck.
For more information on St. Ives: www.stives-cornwall.co.uk
British Airways has direct flights to London from several U.S. gateways: www.britishairways.com.
For additional information on U.K. travel: www.visitbritain.com
{photo of St.Ives}