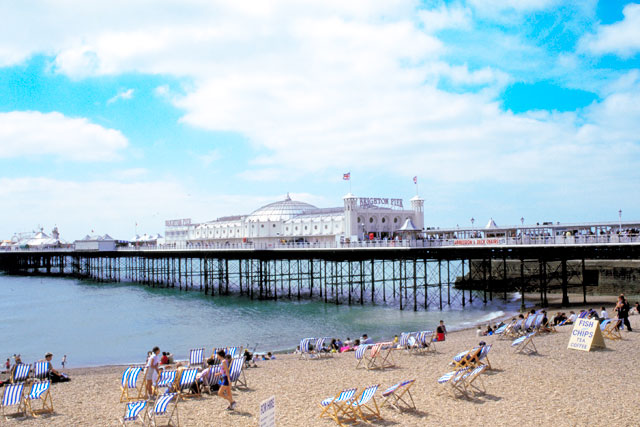 By Patti Nickell
I've enjoyed a life-long love affair with trains.   As a child, my favorite bedtime lullaby was the nearby mournful whistle of a train, bound for somewhere unknown, taking those lucky enough to be aboard on a fascinating adventure.
Sadly, I live in a country more enamored of fast automobiles than slow-moving trains.  That's one of the reasons I cherish my frequent visits to Britain.  If ever a country loved its trains, it's this one, and why not, when you have a system as comfortable and efficient as BritRail?
On nearly every trip to the U.K., I take advantage of BritRail's 4-day pass which allows for travel anywhere in England, Scotland and Wales, and my most recent visit was no exception.
Thinking it a minor sin that I have made some 45 visits to England and had never been to Brighton, I set out from London's Victoria Station to remedy this sad situation.  Opting for a first class compartment, I sank back into a plush seat, ordered a coffee, and began to watch the lush English countryside unfold around me.
All too soon, I was in the seaside town just an hour south of London.  My first stop was that shrine to hedonism, the Royal Pavilion.  In describing it, the 18th century writer and Anglican cleric Sydney Smith remarked, "It looked for all the world as if the Dome of St. Paul's had come down to Brighton and pupped."
I thought it looked more Taj Mahal than St. Paul's, which is surely the effect the Prince Regent (later George IV) and his architect John Nash were going for.  The gleaming white domes, parapets and cupolas may be Indian, but the lavish interior combines the glamor of the subcontinent with a tantalizing taste of China.
By complete contrast, the Brighton Pier is pure English.  Far from being merely a place for a good seaside promenade, the pier is a one-stop entertainment shop.  You can enjoy fine dining in a full-service restaurant or fish and chips at a take-out counter; get a tattoo or a piercing, take a ride on a roller coaster or wander through the House of Horrors.  There's even a spa where you can indulge in all manner of pampering.
Brighton has cleaned up its act considerably from the late 18th century when the Regent's dalliance here with Mrs. Fitzherbert led to it being known as the place to go for "dirty weekends."
Now, chic, moneyed Londoners flock here to shop for the likes of Paul Smith and Cath Kidston in the fashionable boutiques of The Lanes, nosh on oysters and champagne at high end restaurants such as Riddle and Finns www.restaurantsbrighton.co.uk), or slumber in the lap of luxury at elegant B & B's such as The Blanch House, just a block from the beach in bohemian Kemp Town (www.blanchhouse.co.uk.)
Still, there's enough quirkiness to keep Brighton Brighton, and not a seaside outpost of London.  For some of that quirkiness, wander North Laine, an alternative shopping area to the more upscale The Lanes.  Rubbing elbows with Rastafarians and Goths, you can pick up a pair of fairy wings (always useful) or hunt for bargains at the flea market in Kensington Gardens.
For an extra dose of quirk, head over to the delightfully eccentric Tea Cosy (www.theteacosy.co.uk) where customers have been asked to leave if they fail to stand during impromptu renditions of "God Save the Queen," and where the tea menu's dishes are named for members of the royal family.
All too soon, I was comfortably seated in BritRail's "Quiet compartment," which thankfully, is just that (nary a soul pulled out his/her cell phone) for the journey back to London – all the way pondering where next I would use my pass.
You can reach Brighton with the following BritRail Passes:
– BritRail London Plus Pass
– BritRail England Pass
– BritRail Pass