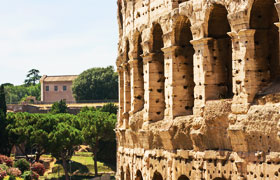 Venice, Rome, Tuscany, Florence, Milan, Naples, Pisa…
Travel through Italy, likely conjures up images of Tuscan vineyards, sunflower fields, romantic gondola rides down Venetian canals, historic monuments of Rome, Milan's bustling world of fashion, culinary heaven and the list goes on! With unbeatable views through your window and a great rail network, don't leave home without an Italy rail pass in hand.
Hopping on the train with a Eurail Italy Pass can take you from Rome to Florence in 1 hour and a half, from Florence to Pisa in just 45 minutes, from Florence to Venice in less than 3 hours, from Siena to Orvieto in just over 2 hours, as well as, any other stop throughout Italy that catches your interest!  Plus Italy has great connections to neighboring countries, including France, Greece and Spain, with a Eurail Italy – Greece Pass, Eurail Italy – France Pass and Eurail Italy – Spain Pass.  Or if you want to explore beyond these destinations, simply create your own rail pass by selecting the 3 to 5 countries that make up your itinerary with a Eurail Select Pass. And lastly if you want the complete freedom to explore Europe far and wide, opt for the Eurail Global Pass where you can experience train travel in 22 countries with this one pass!