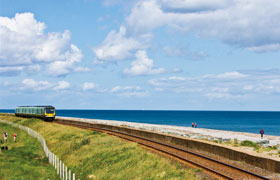 Take advantage of our best discounts
BritRail Passes and Eurail Passes have a variety of discounts for youth, seniors, groups and more.  Here are our 2 most popular discounts offering great ways to save…up to 50% on BritRail and up to 15% on Eurail!
BritRail Party Discount
Save up to 50% off the 3rd through 9th passengers traveling together. So, get your group together and share a great trip, along with great savings!
Available in both First and Standard Class
Can be applied to the BritRail FlexiPass, BritRail Consecutive Pass, BritRail England FlexiPass and the BritRail England Consecutive Pass.
Please note that the group must travel together at all times, as you will receive one BritRail Party Pass to be used by the group.
Eurail Saver Discount
Several Eurail Passes offer a 'Saver' fare for groups of 2 to 5 people, where each passenger receives up to 15% off on the normal adult price. Saver passes are generally offered in first or second class but this ultimately depends on the pass chosen. Please note that one Saver Pass is used by the group so traveling together is required.
More discounts for seniors: https://www.acprail.com/seniors
More discounts for youth: https://www.acprail.com/youth