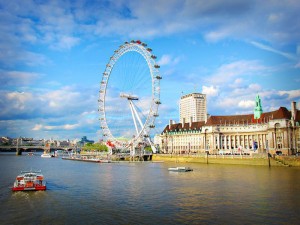 The best views of London
Hop aboard the EDF Energy London Eye for a 30 minute flight aboard one of London's great iconic attractions.  Always in motion, the London Eye is like a giant Ferris wheel, with glass capsules, perfectly located across the bridge from Big Ben and the Houses of Parliament and on the Thames River edge…all making for the best views in town.  You can see around 40KM (25 miles) from the top as far as Windsor Castle on a clear day.
It's popular
The London Eye welcomes an average of 3.5 million customers every year.  So get your London Eye tickets in advance!
Tip
Plan to ride the London Eye around sunset, for a special experience great for pictures.