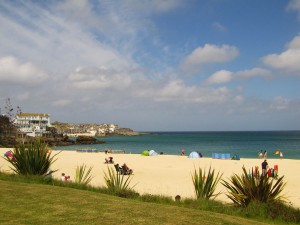 May 25, after a whirlwind of a trip touring around England, Scotland and Wales we were pretty excited to have a day at the beach, with no plans but to relax and enjoy.  First order of business, wake up at 5:30am to see the sun rise over the ocean, because nothing is better! Second order of business, prepare a picnic, because no beach day is complete without a good picnic! Third order of business, stroll over to the beach and rent a few beach chairs to set up our spot for the day.  Only problem, our beach day was cloudy and windy! A few locals had also set up for the day but they came prepared, complete with wind blocking partitions and sweatshirts.
So we did what we do best; we set out to explore the town of St. Ives, with hopes for sun in the afternoon.  St. Ives has 4 beaches, including:
Porthmeor – popular with surfers, this beach features a surf school and nearby Tate gallery.
Porthgwidden – is a smaller sandy cove, with quiet waters great for kids.
Porthminster – a long golden sands beach with all the amenities.
The Harbour – a tidal working port, lined with cafes and restaurants.
There are many beautiful coastal walks between the beaches and distances aren't far so you could actually go beach hopping throughout the day if you wanted.  There is an especially nice lookout on the hilltop between Porthmeor and Porthwidden, where St. Nicholas's chapel sits.
And the town itself has quaint narrow streets lined with galleries, cafes and lots of tourist shops selling goodies from Cornwall, known for making delicious clotted cream.  Clotted cream fudge, clotted cream ice cream, clotted cream shortbread…yum!  But most importantly, clotted cream plays its staring roll in 'Cornish cream tea', which we sampled at teatime at Pedn Olva.  Here's the best definition of clotted cream I came across, in case you're a newbie like myself:
"Ultra-thick clotted cream, the sort that has to be forcibly removed from its container and will not drop off an upturned knife or spoon in a thousand years…. When placed on the scone it will need to be squashed flat rather than spread, and should be generously applied, hence the unsuitability of other types of cream. As with the jam, cream should be piled high on the scone, bearing in mind only that which can comfortably fit into one's mouth."
Our afternoon sun arrived as ordered and we returned to the beach and did some train spotting, as the St. Ives line runs along the coast and arrives just above Porthminster beach.  Then we returned to Pedn Olva to hang by the pool and have a gourmet dinner, complete with a rainbow!
For more information on planning your trip to St. Ives: Visit Cornwall
By: Angela Guezen
Photos by: Jen Crane