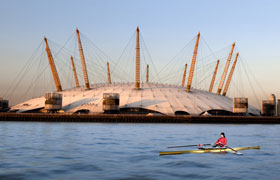 Tickets on sale March 15
With less than 18 months to go until the London 2012 Games, excitement is building, especially as tickets go on sale March 15, 2011.
The London 2012 Games are to be held next summer from July 27 to August 12, covering 19 days of competition across 26 sports, and featuring almost 650 sport sessions.  It's reported that a total of 8.8 million tickets will be available for the London 2012 Games, with an aim to make it affordable for everyone to attend.
We were also happy to hear that this is being called the 'public transport Games' as each ticket will also include free travel on public transport in London for the day of the event.  This will not only make for smoother transport for all attending but it also means that investments are being made to improve some great rail services.
If you are interested in attending the London 2012 Games, we suggest you take the opportunity to explore the UK, as there is much to see beyond downtown London.  With a BritRail London Plus Pass you can visit surrounding towns such as Oxford, Windsor, Cambridge, Canterbury, Brighton, Portsmouth, Winchester, Bournemouth, Salisbury, Bath, Bristol, Stratford-Upon-Avon and more.  This is a great option if you want to take day trips but return to your London hotel at night.  For those who would like to travel to other popular cities in England, such as Liverpool, Manchester, Leeds, Newcastle, Birmingham and any stop in between we suggest the BritRail England Pass.  And of course if you want to also include travel on to Scotland and Wales, the BritRail Pass covers all trains on Great Britain's National Rail Network.
To sign up and register your interest in London 2012 ticketing, please visit: http://www.tickets.london2012.com/.