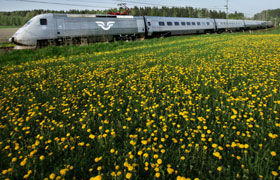 The joys of traveling aboard an SJ high speed train
Sweden's newly refurbished SJ high speed trains are an absolute pleasure to travel on, including speedy arrivals, onboard bistros, wireless Internet access, and electrical power points for radio and music channels at your seat.  Passengers can select either standard class or first class seating, where first class features more spacious seats and complimentary coffee, fruit, newspapers, Internet access and breakfast included before 9am.  First class passengers can also pre-book a hot 3-course meal to be served at your seat.
SJ high speed trains run between the biggest cities in Scandinavia and Sweden. You can, among other cities and destinations, travel with a SJ high speed train to and from Copenhagen, Stockholm, Malmö, Jönköping, Karlstad, Gävle, Gothenburg and Sundsvall.  The journey between Stockholm and Göteborg, for example, takes just 3 hours.  As some travelers would prefer to travel by night and tour by day, which can be very convenient if you're short on time, there is also a great selection of domestic night train routes:
Göteborg-Östersund/Åre
Stockholm-Östersund/Åre
Malmö-Sundsvall/Östersund/Åre
Malmö-Stockholm
Stockholm-Luleå/Kiruna/Narvik
Göteborg-Luleå/Kiruna/Narvik
Enjoy Sweden's SJ high speed train, as well as its InterCity trains and regional trains, with a Eurail Pass.  Select from a variety of Eurail Passes valid in Sweden, including the Eurail Sweden Pass, Eurail Scandinavia Pass, Eurail Norway – Sweden Pass, Eurail Finland – Sweden Pass, Eurail Denmark – Sweden Pass, Eurail Global Pass and a range of regional passes.  Please keep in mind that many trains in Sweden have compulsory reservation, so remember to reserve your seat.
View the map of Sweden train routes.
Upcoming Swedish Events
February to May 2011
"Nasa – A Human Adventure" until November 6, 2011
We are proud to announce that we will be hosting the world premiere of the international space exhibition "NASA – A Human Adventure", an exhibition of 400 authentic items, many on display for the first time. The exhibition will continue on a tour of Europe and the United States.
Vikingarännet until February 21, 2011
Vikingarännet is an annual ice-skating race taking place on Lake Mälaren, between Uppsala and Stockholm, approximately 80km.
Gothenburg Horse Show February 24, 2011 – February 27, 2011
Göteborg Horse Show has been voted best indoor horse show in the world by International Jumping riders in 2006.
Vasaloppet March 6, 2011 – March 13, 2011
Vasaloppet Ski Race. The world's longest cross-country race between Sälen and Mora in Dalarna covering 90 km (56 miles) with some 30,000 participants.
Freestyle FIS World Cup in Åre March 11, 2011 – March 12, 2011
Culture Night April 9, 2011
Museums, galleries, cinemas and a number of other culture organizers are open all night long.
Liseberg Amusement Park Opens April 23, 2011
Gothenburg Half Marathon (Göteborgsvarvet) May 21, 2011
One of the world's largest running events, Göteborg offers the charm of a small town and the opportunities of a big city.
Stockholm Marathon May 28, 2011
Stockholm Marathon is ranked as the No 1 destination marathon in the world by "The Ultimate Guide to International Marathons".
*Photo by Stefan Nilsson