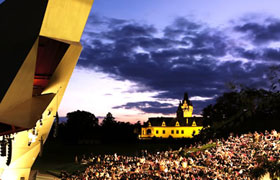 A Eurail Austria Pass can take you there
Austria offers up a diverse list of festivals, many of which highlight its famous scene for opera and classical music.  Although there are roughly 200 festivals in Austria here is a quick preview of the three I wouldn't miss!
Bregenz Festival
July 20th – August 21st, 2011
Bergenz is located on the eastern shores of Lake Constance, which makes for an ideal setting for this festival's open air lakeside stage.  Just imagine sitting outside on a warm summer evening listening to opera productions unlike any other!  The Bergenz festival also features a second stage in the traditional opera house, and over the four week duration of the festival visitors can enjoy theatre and opera performances, orchestra concerts, and numerous other events.
Grafenegg Music Festival
August 19th – September 7th, 2011
Grafenegg Music Festival also offers an open-air stage, set on castle grounds, along with a newly built architecturally stunning Wolkenturm stage and a new Auditorium, since 2008.  This classical music festival features performances from the world's most renowned orchestras, conductors and soloists.  Visitors can also enjoy castle tours, music workshops and much more.  Get there by rail from Vienna, stopping at Wagram-Grafenegg station, just 2km from Grafenegg Music Festival.
Salzburg Festival
July 27th – August 30th, 2011
Salzburg's beautiful Baroque old city center forms the Festival's backdrop, with much to do and see between performances.  The Salzburg Festival offers a diverse program, featuring a nice mix of opera, drama and concerts.  And it's said that only the best and most famous artists from all over the world are invited to Salzburg.  Some even say it's the most important festival in the world!
Here is the complete list of Festivals in Austria.
On now… save 15% off a Eurail Austria Pass, if you purchase by March 31st, 2011 for travel through June 30th, 2011.