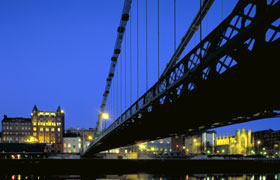 From Edinburgh to Glasgow & the Highlands
With the BritRail Scottish Freedom TravelPass, travel over a period of 4 days within 8 days, or 8 days within 15 flexible rail days.  Planning on booking a trip to Scotland this fall? Please stay tuned as we'll be sweetening the deal by offering an additional day of rail travel to extend the BritRail Scottish Freedom TravelPass, starting August 17th!
Enjoy the freedom of planning your Scotland itinerary far and wide and be sure to include these must-see destinations:
Edinburgh is the capital of Scotland, and one of Britain's most beautiful cities, featuring a stunning backdrop with rocky hills overlooking the sea. The city is home to 4,500 historic and architectural listed buildings which is the highest concentration in the world. Edinburgh is also a modern, dynamic city of art and culture with its museums, galleries, universities and festivals.  Be sure to visit Edinburgh's Old Town, the elegant Georgian New Town, the Royal Mile which joins Edinburgh Castle to the Palace of Holyrood House and more.
Glasgow is situated just 42 miles from Edinburgh and has been named Scotland's style capital, with art deco brasseries, stylish shops, cultural centers, more than 30 art galleries and museums and an annual program of performing arts and festivals.  Stroll along the River Clyde and take in your share of architecture and design.  Shopping, fine dining and nightlife aside, don't miss Glasgow's School of Art, The Burrell Collection and Glasgow Cathedral.
Inverness is the main city of the Highlands, with the nearby River Ness, home to the legendary Loch Ness monster and Moray Firth, known for bottlenose dolphin sightings.  Don't miss the pink sandstone Inverness Castle and re-live one of Scotland's most famous battles at Culloden battlefield.
Aberdeen is Scotland's third largest city, home to the famous Granite Mile with over 800 shops, restaurants and bars. Where else can you follow a castle trail, whisky trail and coastal golf trail all in the same city?
Perth features Scone Palace where 42 of Scotland's Kings were crowned, and inside a gallery of historical treasures including Marie Antoinette's writing table can be found.  Plus, Perth is a consistent Beautiful Britain award winner, showing its colours from Easter to autumn, and now boasts a new state of the art Concert Hall.
Stirling has a gorgeous old town with winding cobblestone streets and stunning Stirling Castle.  Visitors can also see the National Wallace Monument, with panoramic views of surrounding battlefields and a feeling of great history.
Looking for some of Scotland's popular scenic rail routes? Read about 2 unforgettable highland journeys: http://www.britrail.net/blog/2010/01/scotlands-scenic-routes/#more-1349