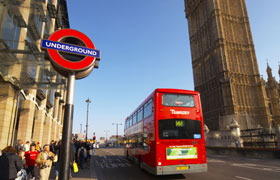 London is best traveled by tube and bus, especially when using a prepaid card, which saves you time and money on London's public transit.  Either an Oyster Card or a London Visitor Travel Card is great to have during your stay in London, as using the underground and bus network is much more affordable and quicker than getting around with taxis. 
As both can be used on London transport, selecting the best card to suit your needs depends on how often you plan on using London's underground and bus network, including the number of days you will be in London and how many times a day you plan on traveling.  The Oyster Card is a Pay-As-You-Go card so you start with £15 credit and can add more credit if you run out.  Whereas if you plan on using the tube and bus more often on select days then the London Visitor Travel Card provides unlimited travel for either 3 or 7 consecutive days.
More on the Oyster Card…
The extremely flexible Oyster card provides access to London's most popular public transit services. Ride the Tube, Docklands Light Railway, bus and tram, and participating National Rail services with this amazing card.  The benefits include:
Convenience, as you pay in advance so no lines.
Price, as once you reach the price of a day travel card no more credit will be deducted from your Oyster card for the rest of the day no matter how many journeys you make.
It's reusable, as you can top it off with more credit when needed, plus the money you put on your Oyster card doesn't expire so you can keep it until your next visit or pass it on to a friend.
More on the London Visitor Travel Card…
Hop on and off London's tube & bus using a London Visitor Travel Card, with unlimited travel throughout all 6 (or just the 2 central) zones of London's buses and subways. Travel Cards are valid on London's Tube, Docklands Light Railway and bus services within the entire Greater London area (regardless of the zone the Travelcard actually covers), Trams (where your Travelcard includes Zone 3, 4, 5 or 6) and London's National Rail (excluding Heathrow Connect and Heathrow Express).
Select your Travel Card from the following options:
• 3 Day, All Zones, Off Peak*
• 3 Day, Central Zones 1&2
• 7 Day, All Zones
• 7 Day, Central Zones 1&2
*The 3 Day All Zone Travel Cards are for Off Peak Travel only (travel after 9:30am weekdays + unlimited weekend travel).