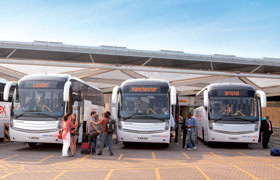 Another affordable way to travel
UK Coach Travel – From the airport to your chosen destination in Great Britain
Conveniently travel form the airport directly to any destination in the UK, as National Express coach service offers departures from Heathrow Airport, Gatwick Airport and Stansted Airport to your chosen destination, whether it's a short transfer to central London (Zone 1), or to a select destination in the rest of England and Wales (Zone 2) or Scotland (Zone 3).   Receive 2 one-way segments, from the airport to your destination and return.  The return portion of the journey can be used anytime within 3 months of arrival in the UK.
Europe Coach Travel – A 15 or 30 day pass for international journeys to 43 big cities
The Eurolines Pass is a coach (bus) pass valid for travel across 43 key European cities.  One of the highlights of a Eurolines Pass is you simply need to pre-book your first destination and after that you can plan as you go.  With a validity of either 15 or 30 consecutive days, you'll have plenty of freedom to pack in a great number of vibrant European cities and top attractions.
Travelling by coach gives you the opportunity to go from city center to city center and enjoy the countryside in between.  Customers will also enjoy modern coaches with reclining seats, large picture windows, washroom facilities and a comfortable amount of legroom.
When planning your route, keep in mind that Eurolines operates international journeys and therefore it is not possible to make internal journeys within a country using the Eurolines Pass, with the exception of one internal journey in Spain: Barcelona-Madrid-Barcelona.