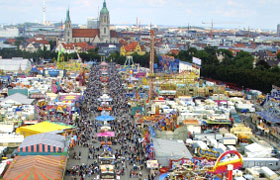 Munich's Oktoberfest is a great way to top off this journey
A rail pass to explore Germany, Belgium, the Netherlands and Luxembourg (Benelux) by train; quite a spectacular combination!  With a Eurail Benelux – Germany Pass select the number of flexible rail travel days from 5, 6, 8 to 10 days in 2 months.  With fantastic connections using German rail and beyond you will truly appreciate the speed, comfort and value enjoyed with a Eurail Benelux – Germany Pass.
Here's an itinerary using 5 days of rail travel, with a city lineup that's hard to beat:
Berlin —> Hamburg —> Amsterdam —> Brussels —> Luxembourg —> Munich
End your journey in Munich for Oktoberfest!
The world's most famous Beer Festival, Oktoberfest in Munich, is celebrating its 200th anniversary from September 18 to October 4, 2010. A special program and exhibitions await visitors from all over the world. With beer tents, a carnival with rides and more than six million people expected, get ready to celebrate German food, tradition and the joy of life in Bavaria.