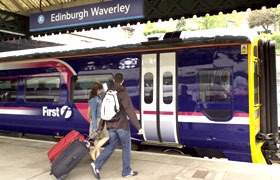 BritRail 4 day Flexi Pass
As a traveler, it's important to compare your options and find the best fit for your travel style.  To most, vacation time is synonymous with making spontaneous decisions and avoiding rigid schedules.  In other words, if you step into a city you love and spend some extra time lingering at attractions and cafes, then having the freedom to stay an extra night is ideal.  With a BritRail 4 day Flexi Pass, travel days need not be used consecutively as you have 2 months to complete your 4 days of rail travel so please be our guest and stop and smell the roses, which just happens to be England's national flower.
Top 5 Joys of Traveling with a BritRail 4 day Flexi Pass
Have the choice to 'go with the flow' with 4 flexible rail travel days
Access the national rail network to 2,500 exciting destinations throughout England, Scotland and Wales
With over 19,000 daily train departures, enjoy unlimited train trips on each rail travel day, including the ability to hop on and off the trains at your leisure
Get access to Heathrow, Stansted and Gatwick Airport Express trains, which provide the quickest and most convenient transportation from London airports to central London
Experience the ultimate in convenience, from skipping ticket lineups, easy baggage storage, and on board service…not to mention comfortable seats and stunning scenic views through your window!
Browse BritRail Passes https://www.acprail.com/rail-passes/united-kingdom