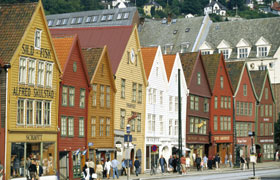 Denmark, Norway, Sweden & Finland
With a Eurail Scandinavia Pass, travel seamlessly throughout Denmark, Finland, Norway and Sweden for 4, 5, 6, 8 or 10 flexible rail days within 2 months.  With summer vacation around the corner, you'll truly appreciate this vibrant list of destinations, all included with one rail pass.
Norway – Be sure to visit Oslo's top attractions, including Vigelandsparken Sculpture Park, the Opera House, Holmenkollen Ski Jump, Munch Museum and the Viking Ship Museum.  Norway's famous fjords are also a must see, with breathtaking scenery, unbeatable trails white-water rafting.  Great Norway fjord tours include Norway in a Nutshell and scenic rail tours include Flam Railway and the Rauma Line.
Finland –  Helsinki is the city not to miss, especially Senate Square and neighboring Lutheran Cathedral.  Helsinki is also the departure point to take the train to St. Petersburg in Russia.  Finland, further known for beautiful natural settings, has approximately 188,000 lakes and a similar number of islands. You can also experience midnight sun in the summer, where the sun doesn't set for 2 months in Northern Finland, and northern lights aurora borealis in the winter.
Sweden – Travel to Stockholm and visit the Old Town (Gamla Stan) which dates back to the 13th century.  A Stockholm Card is a versatile sightseeing pass, providing free entry to 75 museums and attractions, travel on public transportation and sightseeing by boat.   A Gotenburg Card sightseeing Pass is also available.  Another attraction is Stockholm's nearby archipelago, which has 24,000 islands and is well loved by sailors, kayakers and the like.
Denmark – Explore Copenhagen with many open-air festivals, such as Roskilde (www.roskilde-festival.dk).  With a lineup that's hard to beat, Roskilde Festival is northern Europe's largest music festival.
For the complete list of available rail passes in Scandinavia please visit: https://www.acprail.com/rail-passes/scandinavia