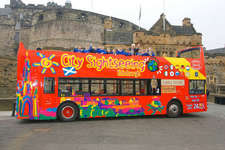 The ultimate double-decker bus tour
Climb aboard an open-top double-decker bus and get acquainted with the finest cities in the UK, thanks to multi-lingual commentary or a live guide. You can hop on and off the bus as you please to make the most of your City Sightseeing tour.  With services throughout the day, as frequent as departures every 15 minutes, passengers can visit all the best sights and attractions that a city has to offer at their own pace.  It's the best of both worlds – having a tour guide to show you around, while keeping to a schedule all your own!
The following tour maps will give you a sneak peak of the stops included for each city.  For example Glasgow's City Sightseeing tour has 21 potential stops, extending from one end of the city to the other.
Book your City Sightseeing tour today https://www.acprail.com/extras/united-kingdom