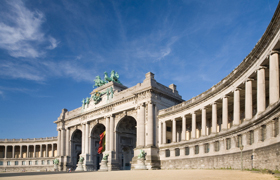 Become a fan of ACP Rail
ACP Rail is now on Facebook and will be featuring promotions, sharing travel information and more. Simply become a fan of ACP Rail on Facebook by May 1st, 2010 and have the chance to win a pair of Eurail First Class 10-day Global Flexi Passes.  Get the full flavour of Europe with train travel in 21 countries with this one pass!  Travel throughout Austria, Belgium, Croatia, Czech Republic, Denmark, Finland, France, Germany, Greece, Hungary, Ireland, Italy, Luxembourg, Netherlands, Norway, Portugal, Romania, Slovenia, Spain, Sweden and Switzerland with 10 flexible rail days within 2 months.
To automatically have a chance to win become a fan of ACP Rail International, the official distributor of the BritRail product line since 2000 and an established global provider of train travel in Europe, Scandinavia, the UK, Japan, Australia, the United States of America and China to travelers worldwide.
Contest Terms and Conditions:
Contest open to fans of ACP Rail by May 1st, 2010.  Contest not open to European residents.  No purchase necessary.  A random draw will determine the winner of two Eurail 10-day Global Flexi Passes and ACP Rail will contact the winner by sending them a Facebook message.  The selected winner must claim their prize within 7 days of receiving the Facebook message announcing them as the winner, otherwise another random draw will take place.  Certificate for 2 Eurail Passes is valid for travel within one year from date of issue.  Certificate is non-transferable and has no cash value.  Some trains may require passengers to have a seat reservation.  The cost for a reservation or supplement is not included in a Eurail Pass and varies depending on the country, type of train and date of purchase/travel.  High speed trains and night trains are examples of trains requiring a supplement and reservation.  Eurail Pass holders are responsible to cover any such additional costs.