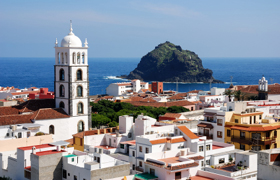 Array of European Passes to choose from
Spain is a popular summer vacation destination thanks to its vibrant cities from Barcelona to Madrid and coastal beauty with sizzling beaches, trendy restaurants and loads of cultural delights.
Plus with Spain's summer season, enjoy a variety of festivals, especially famous for the exciting Fiesta de San Fermin, Running of the Bulls, held in Pamplona early in July and
La Tomatina Tomato Fight held in the small town of Buñol, an hour outside Valencia at the end of August.  Leading up to the world's largest food fight, Buñol also hosts a paella cook-off and various festivities and fireworks.
Spain is best traveled by train, and a Rail Pass will give you maximum flexibility to jump on and off the trains as you wish.  Just imagine travelling from Madrid to Barcelona in two hours and fifty minutes, with no road maps or traffic to worry about.
There are a number of Eurail Passes to choose from which include train travel throughout Spain:
Eurail Global Pass
Eurail Select Pass
Eurail France – Spain Pass
Eurail Italy – Spain Pass
Eurail Portugal – Spain Pass
Eurail Spain Pass
For European residents, please select an InterRail Global Pass or InterRail Spain Pass.
Browse the selection of train passes for Spain https://www.acprail.com/rail-passes/europe/spain