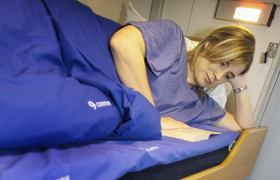 Arrive early ready for a day of exploring
A sleeper journey has great advantages that just can't be overlooked! Night journeys are a great way to cover a large distance without spending daylight hours traveling, and saving a night's hotel cost.  In Europe, many of the countries are so closely connected making travel relatively seamless; so seamless that you can sleep through the borders!
Depending on the train, passengers can select a sleeper compartment with one, two or four berths, six-person couchettes or seat accommodation.  To travel in sleepers, a supplement can be purchased in addition to a rail pass or point-to-point ticket and must be reserved in advance.
London to Fort William
When planning the perfect UK train holiday, nothing sounds more romantic and adventurous than 'waking up in the heart of the highlands'.  With a Caledonian Sleeper ride overnight between London Euston & cities in Scotland and arrive the following morning in the countryside or city center. Sleepers leave London Euston station Sunday to Friday nights with services to Edinburgh, Glasgow and most major stations on the routes to Inverness, Aberdeen and Fort William.  The Fort William service is the most spectacular, where you'll enjoy a morning crossing wonderful Highland scenery.
Extend your travels from Finland into Russia!  There are excellent connections from downtown Helsinki to the center of St. Petersburg, known for its beautiful canals and Moscow, Russia's edgy capital city.  Passports and visas are checked onboard making for easy border crossing. The overnight journey takes approximately 14 hours to Moscow.  There are also great daily departures from Helsinki to St. Petersburg, where you can arrive in Russia in 5 and a half hours.
Norway is known for offering up breathtaking views so why, might you ask, would you want to miss this on a night train?  When taking this journey in the summer you'll notice that the sun will barely set, thanks to Norway's midnight sun.  The ten hour Trondheim to Bodo service is also very pleasant as Norwegian trains are comfortable, accommodating and provide good value.
City Night Line sleeper services are some of the most comfortable, offering modern accommodations and extras such as quality duvets and breakfast included with select accommodations.  You can also take the City Night Line to Hamburg, Zurich, Munich, Paris and Venice. Amsterdam Central to Copenhagen H via Hamburg is one of the most popular routes for travelers, as it provides lovely scenery of Denmark en route.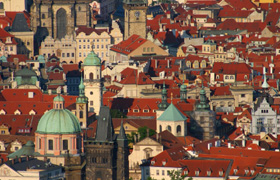 Prague to Kraków
This classic Czech Republic to Poland journey is often featured on Euro trip itineraries, connecting two of central Europe's great destinations. The nine-hour trip is said not to be too scenic so it's the perfect night train opportunity, arriving in Kraków ready for a day of exploring magnificent Gothic and Renaissance architecture.
Visit https://www.acprail.com/tickets-and-reservations/europe to book your sleeper journey.