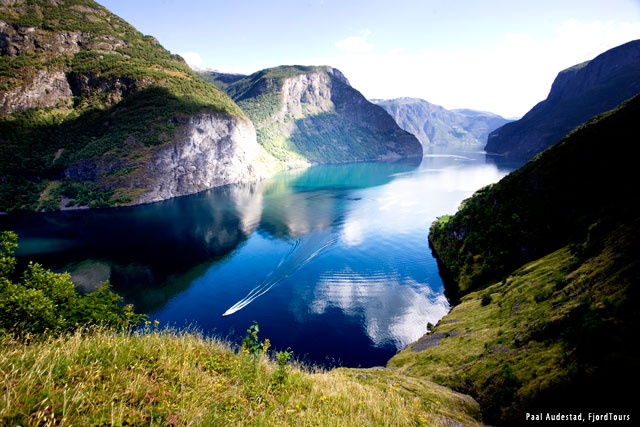 Norway in a nutshell®
The Norway in a nutshell® tour takes you through the loveliest scenery in Fjord Norway. Travel the mountains by rail, the fjords by boat, and take a breathtaking bus journey up the steepest road in Northern Europe, the Stalheimskleiva!
Choose from five itineraries that include standard class rail service, bus shuttle and boat excursion:
N1400. Bergen-Flam-Gudvangen-Voss-Bergen
N1402. Voss-Myrdal-Flam-Gudvangen-Voss
N1404. Oslo-Flam-Gudvangen-Voss-Bergen
N1406. Oslo-Flam-Gudvangen-Voss-Oslo
N1408. Oslo-Flam-Gudvangen-Voss-Bergen-Oslo
Tour Highlights Include:
The Bergen Railway: travel between Oslo and Bergen on Northern Europe's highest railway, a rail journey over the beautiful mountain plateau with views of the Hardangerjøkulen glacier.
The Flåm Railway: the 20km-long train journey from the mountain station of Myrdal and down to Flam deep in the fjord takes around 55 minutes. On the journey you have views of some of the most magnificent mountain scenery in Norway with an ever-changing panorama of tall mountains and thundering waterfalls. Along the Flam Railway the train moves slowly or stops at the best views.
The Aurlandsfjord: continue your tour by boat, where you can enjoy views of splendid Norwegian fjords – now on UNESCOs World Heritage List, while being surrounded by mountains up to 1,800 metres high.
The Nærøyfjord: enjoy views of the narrowest fjord in Europe.
Stalheimskleiva: the coach journey continues down the steep and spectacular hairpin bends of Stalheimskleiva.
The Kjosfossen Waterfall: when taking the Flåm Railway, explore the Kjosfossen waterfall, which is 670 meters above sea level.
The Norway in a nutshell tour is available all year and can be completed in a day. However, stopovers and overnights are permitted and strongly encouraged. A 1 to 3 day period is best to fully appreciate the tour.