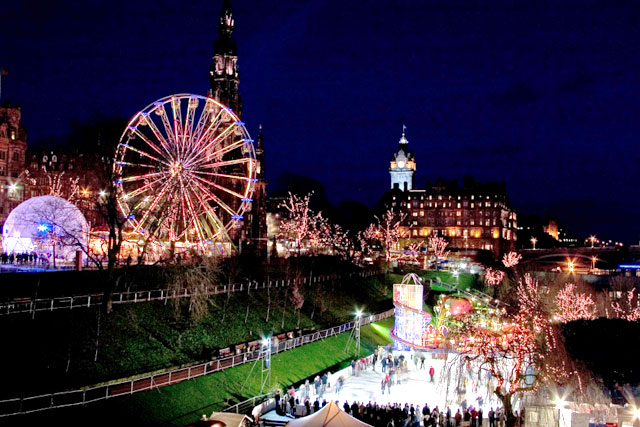 Celebrating the New Year with Scottish dances, burning fireballs, chilling rivers and more
Scotland is world renowned for its end of year celebrations called Hogmanay, where you can enjoy the transition to the New Year with thousands of merrymakers who make the trip annually. It's where you can attend a massive party, dance all night in a traditional Ceilidh and plunge in icy waters the next day. With BritRail's Low Season Discount, you have an additional reason to make it to the celebrations throughout Scotland as you now save up to 20% off the regular price of a BritRail Pass.
Hogmanay represents Scotland's New Year's Eve and the celebrations around the New Year. It's a typical Scottish thing and since it's been celebrated for centuries, there's a huge heritage attached to it, which surely contributes to the fame of the event. Edinburgh will host quite possibly the largest party you'll ever attend. Over 80,000 people from around the world are expected to welcome 2014 at this year's Street Party. Artists are invited to perform on stage and when the clock hits midnight, a huge fireworks display turns the event into an unforgettable moment.
You can also decide to dance your way to the New Year by attending a Hogmanay Ceilidh, which is a gathering where participants take part in traditional Scottish folk dances. One of the most popular Ceilidh during New Year's Eve is the The Keilidh. Being held in an exclusive area of the Street Party, The Keilidh is likely the biggest outdoor dance event in the UK. Grab a BritRail Pass and reach Edinburgh out of London by train in as little as 4 hours and 22 minutes.
But, Edinburgh is not the only city holding activities during Hogmanay. Stonehaven, for instance, puts on a hot show with its spectacular Fireball Ceremony where participants light up the streets and swing around giant fireballs as they march through town. Accompanied by drummers and pipers, they walk towards the harbour where they throw their blazing balls into the sea. Stonehaven can be reached by train from Edinburgh as you head north towards Aberdeen, which is a few stations away.
Then on January 1st, you can join hundreds of courageous souls as they take the plunge into the freezing waters of River Forth. The Loony Dook is the final stage of the Dookers Parade through South Queensferry. The walk features pipers, lots of entertainment and finally an insane act of bravery from those looking to clear their head from last night's excesses. Reach South Queensferry by getting off at the Dalmeny train station, which station is about 10 kilometers away from Edinburgh's city center.
And finally, you'll want to bring some luck to your friends, family and maybe even strangers by being the first person to enter their home on New Year's Day. This custom is called "First footing" and is a throwback to the days of the Vikings. The legend states that a dark haired stranger arriving at your doorstep with a symbolic gift (usually whisky or shortbread, but coal or salt is also accepted) will bring good luck to the house for the whole year.
Purchase a BritRail Low Season Discount Pass before February 15, 2014 to receive up to 20% off the regular price. A BritRail Pass allows you to reach Edinburgh, Glasgow, Aberdeen, Stonehaven and other destinations in Scotland where you can enjoy Hogmanay. In addition, the pass allows you to travel to train stations in England and Wales.