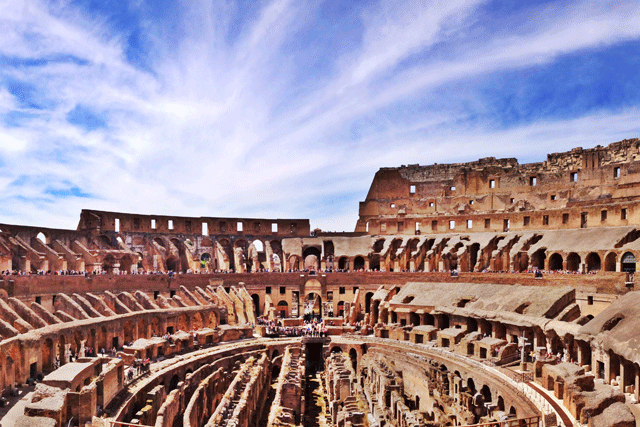 With yesterday's afternoon experience under our belt, we felt ready to tackle a full day in Rome. And with the Trevi Fountain being so close to our hotel, we actually set out to go see it again first thing in the morning before the crowds so we could easily squeeze our way down to the base of the fountain, and throw in our coins to make a wish. Lighting for photos and crowds are always better in the morning so keep this in mind when picking your first attraction of the day.
Next we had breakfast Roman style; coffee and pastries standing in a small café, with no time to sit and where the whole to-go idea is just not the same. No grande lattes to-go here! Then we walked over to the nearest City Sightseeing bus stop to begin our tour of Rome. This big red bus, complete with open-top and audio guide, is a popular way to see the top attractions with ease. With a one day ticket you can hop on and off the bus at the stops of your choice, so we got on near the Trevi Fountain. Sitting on the open top, we made our way past a number of historical monuments, all the while working on our tan on this gorgeous sunny day, until we reached the Colosseum where we hopped off.
Keep in mind that anyone who visits Rome will also visit the Colosseum so you can imagine the line-up to enter. We heard the wait to buy tickets and get inside was up to two hours long, so we did some investigating and made our way in (without jumping the exit turnstiles, although the thought did cross our mind!). To skip the lineup either join a guided group for approximately an extra 15 EUR or simply pay for an audio guide for an extra 5 EUR, which is what we opted for. Once inside, the Colosseum continues to give off a sense of grandeur like no other, so we were happy to have found our way inside.
Just outside the Colosseum we hopped back on the City Sightseeing bus and headed to the Vatican. After crossing the Tiber river, look straight ahead to see St Peter's impressive square as you turn the corner. This is the stop for the Vatican so we hopped off; only problem was we made it only 20 minutes before the entrance was closing and couldn't make it through the lineup in time. Upon entrance here the main attractions include the Vatican Museums, the Sistine Chapel and St Peter's Basilica so be sure to give yourself a few hours to see it all and make the most of your visit. If you have a few days in Rome we think this would probably be another one of those attractions to tackle first thing in the morning to avoid the crowds, and don't forget to dress for the occasion covering your shoulders and knees.
We once again hopped back on the City Sightseeing bus and this time stopped off to see the Pantheon, which is free to enter and features a magnificent columned entrance and a domed ceiling.
How to end the perfect day in Rome? With a delicious meal, of course! A local colleague of mine joined us for dinner near the Spanish Steps, where he ordered everything in Italian and we enjoyed fresh mozzarella di bufala, prosciutto, fried artichokes, grilled fish and gelato with orange sauce for dessert.
Next stop Cinque Terre!
Thanks to our partners for making this visit to Rome possible: Air Canada Vacations and City Sightseeing.