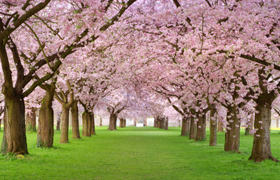 Get around with a Japan Rail Pass
Japan attracts visitors in April each year for the blooming cherry blossoms that bring a beautiful pink hue to Japan's many cities, parks, riversides, gardens, castles and shrines.  Map out your own cherry blossom viewing tour with a Japan rail pass.  Japan rail passes also provide access to some top sightseeing attractions, from Tokyo and Nagano to Mount Fuji. Japan rail travel is highly popular thanks to its Shinkansen "bullet trains", where you can be sure to get around Japan quickly, safely and comfortably.
You can enjoy Japan's cherry blossoms in an endless number of locations but here are some favorite spots:
Shinjuku Gyoen in Tokyo, where its gardens feature more than 1000 cherry trees of over a dozen varieties.
Ueno Park in Tokyo, a popular destination nearby the National Museum and around Shinobazu Pond.
Tsurugaoka Hachimangu Shrine in Kamakura, where a path covering almost 500 meters, creates a spectacular cherry blossom tunnel.
The northern shores of Lake Kawaguchiko near Mt.Fuji, provide the perfect photo opportunity with the cherry blossoms in the foreground, the lake and Mt. Fuji in the distance.
Along Yamazaki River in Nagoya, find almost a kilometer of cherry blossoms lining the river, making for striking views.
Maruyama Park next to Yasaka Shrine in Kyoto, is especially beautiful in the evenings where a large weeping cherry gets lit up. You can even enjoy a meal at one of the many food stands under the cherry trees.
Kema Sakuranomiya Park in Osaka, where roughly 5000 cherry trees line Okawa River for several kilometers, making this a sight not to miss!
Mount Yoshino is covered by 30,000 cherry trees, making it Japan's most famous cherry blossom viewing spot.
Learn more about our selection of Japan Rail Passes including the Japan Rail Pass, the East Japan Rail Pass and the Kyushu Rail Pass.