A Long Weekend in Scotland
Ian's Travel Experience
A London-based ACP Rail travel expert, Ian C. enjoys a long weekend in Scotland and shares his journey with us.  Get a first-hand feel for the joys of train travel with a BritRail Pass.
Friday Route: London to Edinburgh Waverly station
'I arrive in Waverley station only 4 hours from London and appreciate being in the city centre, avoiding any transfers.
Ian's Travel tip: You can book a Caledonian Sleeper and arrive in Edinburgh the following morning at 7:30 am.  Perfect timing for a full day of touring plus it saves the cost of a hotel night.
Or you can arrive in the afternoon as I did and arrange a comfortable accommodation; nice guest houses to be had from £35 a night single occupancy.
With an afternoon to fill, I take a City Sightseeing bus tour.  Commentary on board ensures you get the full flavour of Edinburgh's history. See Palace of Holyrood House, Scottish Parliament, Arthur's seat (hill overlooking Edinburgh), the castle and much more. The weather being a bit overcast its nice to be on board and let the bus do the hard work. You can get off the bus at any point and rejoin when you want. The ticket is valid 24 hours.
After this action packed 3 hours, I realise I missed out on The Royal Yacht Britannia which is a good half a day excursion. You can take the bus from the station to the Ocean Terminal and enjoy the excellent shopping in the modern centre before taking a tour of the Queen's former preferred mode of transport. It's well worth the visit.
At this point I decide to find a nice restaurant for dinner. If you move up from Princess Street you can find Rose Street. Cuisine is multinational and for good value try one of the pubs, where a beer and a meal is £5.  Last thing today before I go to bed, I walk the Royal mile. Edinburgh at its best, lit up at night where the castle is like a beacon in the dark.'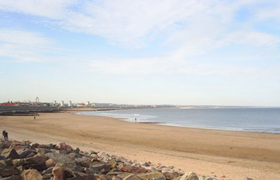 Saturday Route: Edinburgh – Leuchars – Dundee – Arbroath – Stonehaven – Aberdeen
'It's a 2 hour 20 minute journey from Edinburgh to Aberdeen…the oil capital of Europe.
The journey is very beautiful with some great scenery and 2 famous rail bridges are crossed along the way; the Forth Rail Crossing and Dundee Rail Bridge. The former a famous piece of metal work which is an iconic symbol of the region of Fife, Crossing the River Tay just north of Edinburgh.
So after my restful yet eye opening journey, what lies in store in Aberdeen?
For the traveller on foot, once in the city it's easy to see it's a cosmopolitan place with many cultures and a fast pace about it.  With an array of shopping and eating options it would be easy just to opt out and not look for anything more. However all within walking distance of the station are 3 excellent visitor attractions: Aberdeen Art gallery, The Maritime Museum and the Provost Skene's house. The good news is that all 3 are free to enter…such choice!
I decided to visit the Maritime Museum which not only takes you through the search for oil and how the industry operates to the history of the Titanic and the Scottish Shipbuilding industry.  With interactive exhibits and dedicated film shows its easy to spend a good half day if not more here. It's certainly a very popular attraction and should not be missed.
Having chatted with some of the local's I then decided to head for the main tourist beach and also the harbour entrance. Rumour had it that due to calm weather conditions, dolphins and porpoises may be on view today, as they enjoy chasing the boats and riding on the waves created.
Well it was a good walk but well worth it. The main beach has a pleasure park along with major eating chains such as TGI Friday's and in summer with being sandy and sheltered this location is very popular with locals and visitors alike.
A brisk stroll along the beach was very refreshing and then it was a u-turn to head for the harbour. With lots of shipping activity, unfortunately no sign of the dolphins.
So it's been a good day, excellent train journey and a very full afternoon in Aberdeen and one that's left me exhausted. Luckily my guesthouse is warm and cosy…nice enough to plan my adventure for tomorrow.'
Sunday Route: Dyce – Huntley – Elgin – Nairn – Inverness
It's Sunday morning and I'm leaving Dyce, Aberdeen heading for Inverness.  The scene through my window is of the rolling countryside and river scenes.  Also, I must have counted dozens of new born lambs and plenty of calves during the journey and a sign of the cold weather that was had here is that there is still snow to be seen on the very top of the hills.
Arriving in the city of Inverness after a 2 hour and a bit journey, it certainly seems to be a more traditional setting with an older architecture which is cut in half by the River Ness. Perhaps that name rings a bell? Well it should because very near by is Loch Ness….home of the famous monster (well, so tales tell).
My immediate impression is that this place is a walker's paradise.  Its one of the few cities where you can walk from the centre and within minutes feel you are miles from anywhere built up. If you follow the river for about 5 miles you end up at the Loch and it would certainly be a days adventure fitting this in with a picnic and exploration of the Loch itself. However for most it's the 2 hour round trip by foot from city centre to Ness Island and back which is the most popular. I decided to do this and along with plenty of others had a fabulous stroll along by the river. I even caught a fleeting glance of some deer and some fabulous Osprey's were surfing the wind looking for prey. These enormous birds have massive wing spans and can lift small animals with ease.
Once back in the City itself, its very easy to take a further walk hunting down the famous buildings that are here. Starting at the Castle which overlooks from a high point, you can then take in the cathedral, plenty of historic churches and some other famous architectural landmarks.
There are also other day tours which can be taken from the station including a boat ride on the Loch and trips to do some dolphin watching, or if you fancy some tradition, how about a whisky tour or the famous Culloden battlefield.'
Monday Route: Inverness – Aviemore – Perth – Stirling
Took a 4 hour 20 minute journey to Stirling.  Good news is we go through Aviemore which is the main stop off for the Cairngorm mountain range.  This would be an ideal stop for anyone with a BritRail Pass as there are great views and lots to do here including skiing and mountain walking.
However, I am on my way to Perth so I arrive in the late afternoon with the day still sunny so it's straight off to explore.  It's a beautiful place with many old buildings that wind their way up to the very top on the city. This is where Stirling Castle sits proudly overlooking the countryside for miles around.
I walk around the old city with various historic buildings to view, such as the Old Town Jail, Mar's Wark which is an old ruin and the beautiful Church of the Holy Rude.
The main part of the city of course is a mixture of old and new and there is shopping, eating and other indulgencies to be found.
However, after my circular tour I head back to the famous Portcullis Tavern where the food is second to none and is always busy with local and international clientele.
An overview of the experience
I can honestly say that there are so many positives about touring with a BritRail Pass. If you take into account the cost of the pass per day and the option of guest houses rather than hotels, it's certainly a great way to see Scotland on a budget.
The trains are modern, comfortable and regular and have catering facilities on board. The layout is excellent, all with toilet facilities, air conditioning and luggage storage.
Is there a better way to see Scotland itself?  I think the combination of the journey through beautiful countryside in the comfort of your seat followed by a stop at an amazing city is hard to beat. You get the best of both worlds and certainly more relaxing than driving.
It's a great experience also meeting people on the train, including Australians, Canadians, Indians many Europeans and of course plenty of locals; it's astonishing who you end up talking to over the day.
Ian's tips
If you travel over the weekend, plan carefully due to less trains and possible engineering works.
Certain trains may need a reservation during peak season to ensure a seat. Chat with the local Travel Centre to find out before you head off.
If you're using a BritRail Pass, don't forget the discounts that make it great value for families and groups. It certainly reduces the cost per person.